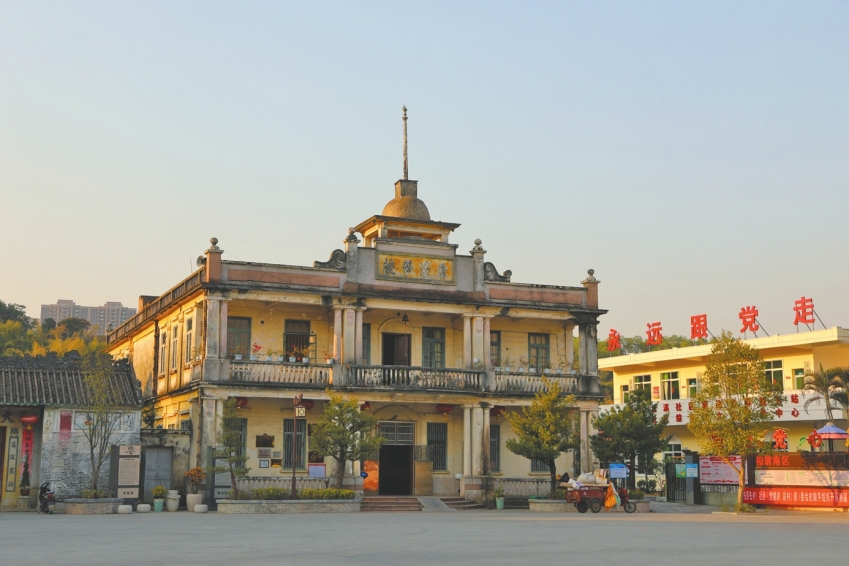 Caobian Township School in South District. [Photo by Wang Yun]

In recent years, Zhongshan's South District has been continuously exploring its unique cultural resources as an overseas Chinese hometown to provide citizens with more choices for leisure and stimulate the power of rural revitalization.
Shachong Village in South District, for example, was recently recognized by the Department of Culture and Tourism of Guangdong Province as a "Guangdong Special Culture and Tourism Village". During its renovation, Shachong Village paid special attention to resource integration and culture exploration. Drawing together such special historical buildings as the Archway of Song Emperor Relics, Shachong School and Ma Zaiming Memorial Hall, Shachong Village has been trying to upgrade and revitalize the overseas Chinese house property resources to create the Shachong Historical and Cultural Creativity Block, which now has been home to many creative studios.

In Liaohou Village, the former newspaper office built during the Republic of China era was rebuilt into a rural self-service library. Self-service borrowing and returning machines, electronic borrowing machines, self-service retrieval machines and "storytelling walls" were newly purchased or set up to provide citizens with more convenient, samrt reading services and various public welfare services.

Caobian Village, with profound cultural resources and a historical atmosphere, boasts many historical and cultural heritage sites such as Caobian Township School, Wuhou Temple, Tianhou Temple, and etc, and it is now a hot tourist attraction.

Near the Fengming Yang Ancestral Hall in Beitai Village, the 3-story "Yan He House" has become a tourist hotspot among young people. This tea ceremony and flower arrangement studio, which was set up for the renovation, protection and utilization of overseas Chinese houses, have brought new vitality to this ancient village.