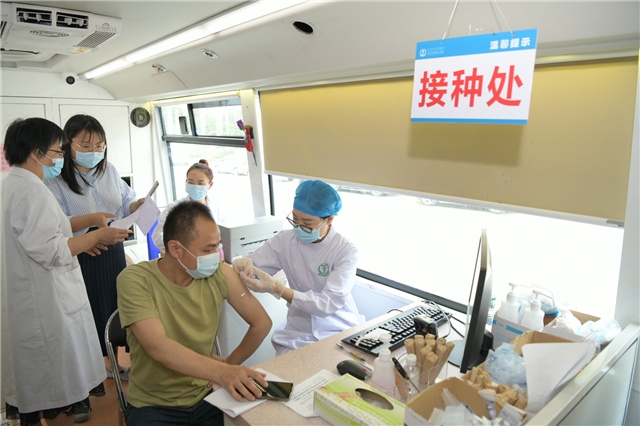 The Information Office of the Zhongshan People's Government on March 29 held the 70th press conference on epidemic prevention and control to introduce COVID-19 vaccine coverage information to Zhongshan citizens.

Liang Weihua, director of the Zhongshan Health Bureau, introduced at the conference that as of 12:00pm on March 29, nearly 180,000 doses of the COVID-19 vaccine had been used for vaccination among Zhongshan citizens. From now until the end of June, COVID-19 vaccination for Zhongshan citizens aged 18-59 will be carried out. In the second half of the year, vaccination for those aged 60 and above, patients with underlying conditions and other voluntary citizens will be gradually conducted, and it is estimated that 340,000 of these people will receive the vaccine.

Zhongshan has set up 27 centralized COVID-19 vaccination sites to ensure that there is at least one in each town or sub-district. Towns and sub-districts may choose a place suitable for large-scale centralized vaccination and set up mobile vaccination vehicles to provide vaccination services for work units, factories, enterprises and communities. More temporary vaccination sites will be set up in accordance with the needs of citizens. Vaccination sites and service hours will be added and extended as necessary, and will include holidays..

According to Liang Weihua, group appointment and individual appointment may be scheduled on the Healthy Zhongshan smartphone APP.

Ye Shinan, director of the Zhongshan Center for Disease Control and Prevention, said that it is not recommended to take the COVID-19 vaccine concurrently with other vaccines. Generally, the interval between the COVID-19 vaccine and other vaccines should be at least 14 days.