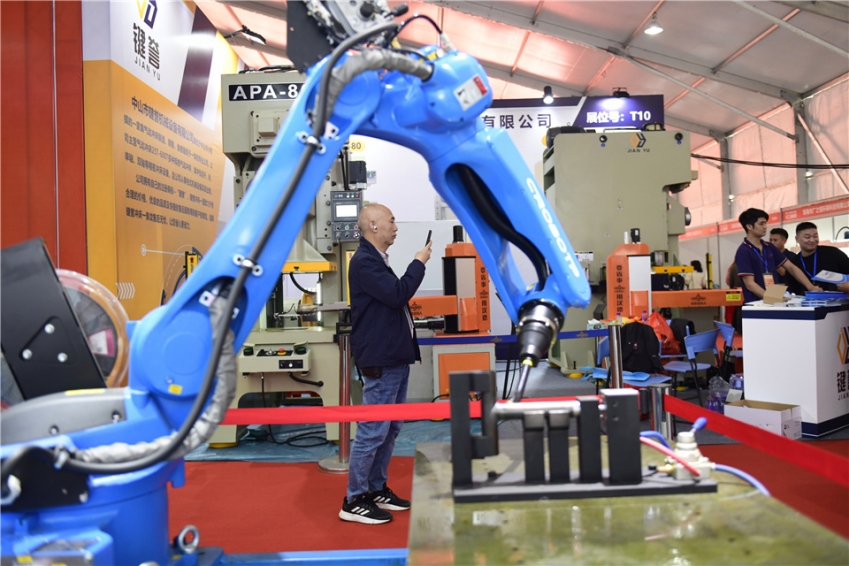 The 18th Zhongshan Xiaolan Light Industry Machinery Exhibition was held at Xiaolan Vehicle Inspection Yard from March 16 to 18, attracting more than 200 upstream and downstream enterprises in the high-end equipment manufacturing sector.

"These are our two best sellers," said Wu Dingfu, general manager of Guangdong Zhide Intelligent Equipment Co Ltd. "Sales in the first two months of this year increased by more than 50% from a year earlier."

Zhide is mainly engaged in the production of precision and high-speed punches, as well as the R&D, design, manufacture and sales of intelligent and automatic whole-plant stamping equipment. Taking root in Zhongshan for nearly 20 years, the company ranks top in China's stamping equipment sector.

This year's Xiaolan exhibition places the focus on high-grade CNC machine tools, high precision machining centers, metal stamping equipment, laser equipment, wire-cut equipment, intelligent packaging equipment, industrial robots and other devices, according to the organizer.

Among the exhibitors, nearly 20 including Miaosheng Laser, Outai Stamping and Taida CNC made their debut to demonstrate high-tech products. Zhide, Zhengtian and other exhibitors showcased their digital, intelligent, individualized new technologies and solutions.

Xiaolan is home to some 27,000 industrial market entities, covering 9 competitive industries such as hardware products, new LED light source, electronics and electrical appliances, office furniture and intelligent equipment.