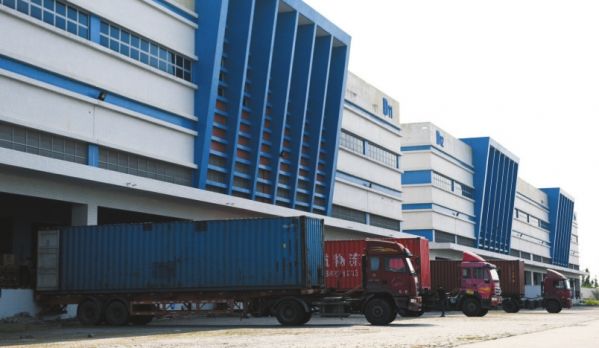 A dozen of container trucks were parking at Zhongshan Bonded Logistics Center (ZSBLC) at 10am on November 19. These trucks came to the center for "one-day bonded tour", according to He Jianhao, deputy director of Zhongshan Customs Office in Shiqi District.

ZSBLC, opened on July 5, 2010, was the only type-B bonded logistics center in the west Pearl River bank at that time. It generates obvious economic benefits in 8 years' operation.

At present, ZSBLC serves a total of over 2,500 foreign trade enterprises. It for a time has the largest business volume within Guangdong Province. Confronting changing trade environment and national policies, however, ZSBLC has been exposed to both challenges and opportunities.

Up to 80% of logistics cost reduced

After 3 years' construction, ZSBLC was opened on July 5, 2010. It completed a total of 158 "one-day bonded tour" cases in the first month's operation. Reportedly, it can help enterprises save about 1,000 yuan of logistics fee for each "one-day bonded tour".

For many processing trade enterprises, ZSBLC is like a "free trade port". These companies import raw materials and finished products from all over the world, and export them to various places. Previously, their goods have to take "one-day bonded tour" far away in Hong Kong or Shenzhen for tax reimbursement, but now just in Zhongshan. It can help enterprises improve efficiency by cutting 50% to 80% of logistics cost and much time.

ZSBLC once held the largest business volume

In addition to "one-day bonded tour", ZSBLC also functions in bonded logistics storage, rotation, simple processing, distribution, inspection and maintenance, customs clearance, etc.

In 2013, total freight volume of ZSBLC amounted to 2.11 million tons and valued $26.65bn, according to Zhongshan Customs. The business volume ranked 5th nationwide and 1st province-wide.

Statistically, as of October this year, ZSBLC has cleared about 2.11 million bills of entry, monitored 871 thousand inbound and outbound vehicles, and inspected 6.92 million tons of goods (valued $81.1bn).

ZSBLC to undertake "overflow" of free trade zones

However, ZSBLC encounters dropping business volume in recent years, owing to the changing foreign trade environment, new policies, customs clearance reform, and other factors. In this process, Zhongshan Customs has been renovating business operation mode and developing new functions, hoping to facilitate ZSBLC's transformation and upgrading.

In addition to existing functions and preferences, Zhongshan Customs additionally implements 14 innovative management systems and policies duplicated from other free trade zones in ZSBLC. For example, the "bonded commodities exhibition and trade", which helps advance development of new business forms, took effect on March 6, 2017. The new system improves sales flexibility and reduces both logistics and operation costs of enterprises.

He Jianhao says ZSBLC is located between Hengqin Free Trade Zone and Nansha Free Trade Zone. Zhongshan Customs plans to advance more policies and systems duplicated from these two free trade zones in the future. ZSBLC will undertake "overflow" of these free trade zones and promote another round of development.

Reportedly, Zhongshan Customs is exploring and urging the construction of "One park (Zhongshan Cross-border E-commerce Industrial Park) and two centers (Zhongshan Procurement and Export Center and Zhongshan Bonded Logistics Center)" structure for industrial agglomeration and development.