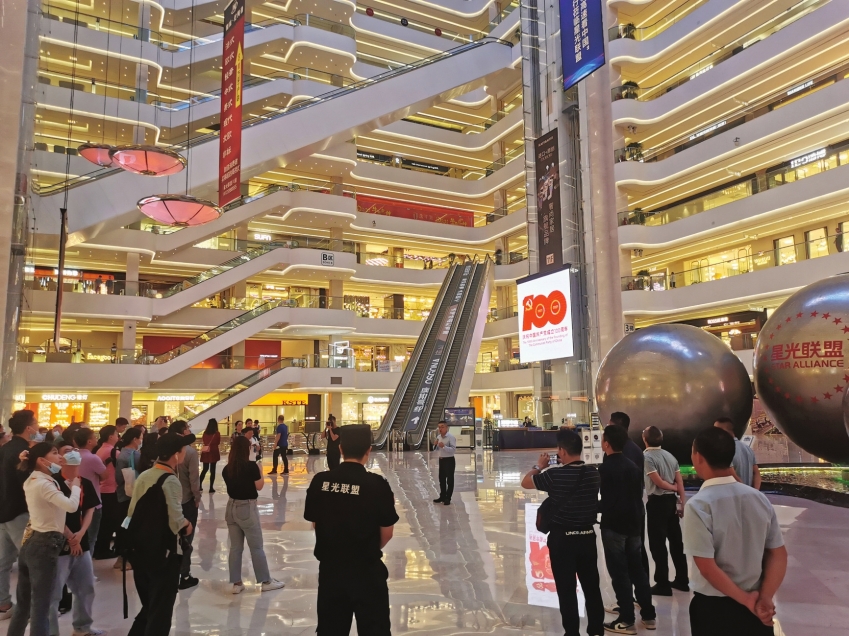 The Star Alliance in Guzhen Town. [Photo by Li Xusheng]

Guzhen Town rallies its industry around lighting. Lighting sales cannot be separated from logistics transportation, and the high-speed network accelerates the expansion of its sales scope.

"There are 585 logistics companies in Guzhen," said Kuang Zhi, secretary of the Party Committee of Guzhen Town, adding that Guzhen's logistics companies can reach all major cities in China.

"The Guzhen lighting industry is laying the groundwork to open up a high speed network for industrial development." Kuang Zhi stated that although Guzhen Town is only 47.8 square kilometers large, its lighting products have been sold to more than 130 countries and regions around the world and is extending in all directions.

With the construction of new expressways, the regional advantages of Guzhen Town are increasingly visible, attracting many Shenzhen-based high-tech enterprises. Since last year, more than 100 high-tech enterprises willing to hit the market have sought settlement in Guzhen.

Guzhen Town is located in the junction area of Zhongshan, Jiangmen and Foshan cities. The lighting industry cluster centered around Guzhen covers 11 towns and sub-districts across 3 cities, with a total output value of over 100 billion yuan.

At present, more than 400 well-known domestic and foreign lighting brands are stationed in the Star Alliance. "Local companies dominated the alliances makeup in the past. However, many companies in Hong Kong, Guangzhou, Shenzhen, Foshan, Jiangmen and other places have been attracted and set up their headquarters and flagship stores in the Star Alliance," said general manager Su Hui.