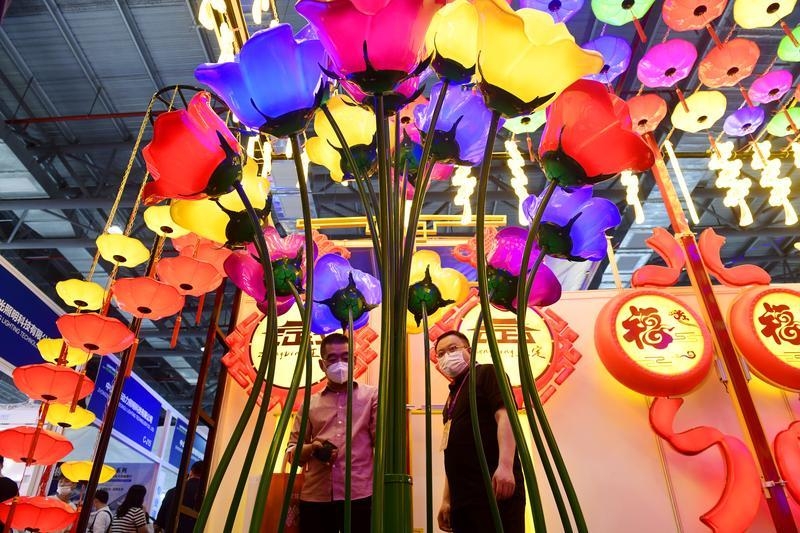 An exhibitor is introducing lighting products to a customer. (Photo/Yu Zhaoyu)

The 28th China (Guzhen) International Lighting Fair (GILF) opened at the Guzhen Convention and Exhibition Center on March 18.

With the theme of "Guzhen Lights Up the World", the GILF sets up its main venue at the Guzhen Convention and Exhibition Center and sub-venues at Lihe Lighting Expo Center, Huayi Plaza, Star Alliance Global Brand Lighting Center, Lighting Era Center, Ruifeng International Lighting Fittings City, Qingfeng LED Lighting Trading City, Guzhen Chang'an Lighting Parts & Electronic City and Caosan International Lighting Parts City. The total exhibition area exceeds 1.5 million square meters, attracting over 3,500 exhibiting enterprises.

Some 82,240 people from over 120 countries and regions signed up for the event, up 49.88% from the 2021 spring edition. With the addition of those offline ticket buyers, the number of visitors to the 28th GILF is expected to exceed 100,000.

At the opening ceremony, Guzhen signed 13 investment projects, including 9 industrial one, with an estimated total investment of 3 billion yuan and an estimated total annual output value of 8 billion yuan. Among these projects are the Honyar Smart Home Production Base, the NVC opto-electronics project, and the drone and chip production project.

During the 28th GILF, high-standard activities will be delivered, including the China Lighting Enterprise Release & High-level Forum on Low Carbon Intelligent Lighting Product and Application Innovation. Besides, the "Brilliance of Guzhen" firework and cultural show will be held at the Guzhen Wetland Park.