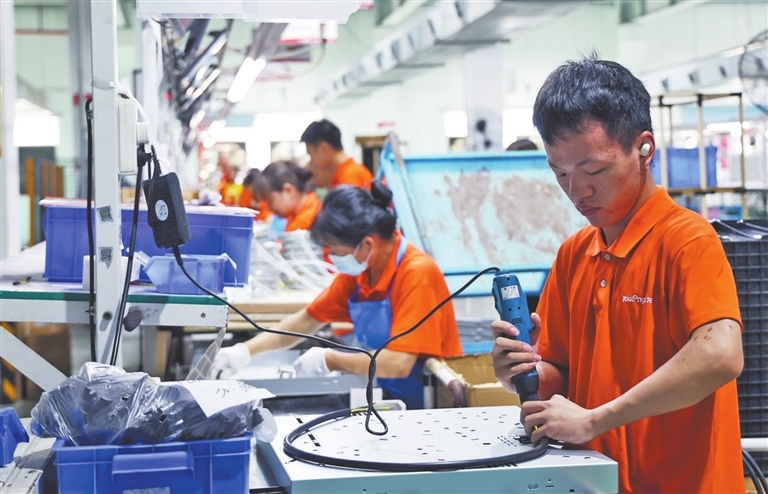 A workshop of Guangdong Youlong Electrical Appliances Co. (Photo/Wen Bo)
In the first half of this year, Zhongshan reported a total import and export value of 123.28 billion yuan, narrowing the decline for five consecutive months. Foreign trade in the second quarter rebounded by 4.9 percentage points compared to the first quarter.
"The foreign trade situation was grim, but the commercial departments offer us airfare allowances and booth fee subsidies through a series of policies, which help enterprises reduce costs in exploring the international market and enhance confidence in stabilizing foreign trade and pursuing development," said Xie Dahua, general manager of Zhongshan-based company Guangdong Youlong Electrical Appliances Co.

As an export-oriented enterprise, Youlong settled in Zhongshan's Sanjiao Town in 2013. It is also a high-tech enterprise engaged in the research and development, manufacturing and marketing of household appliances. Its total exports stood at 290 million yuan in 2019.

Affected by the rising shipping costs, short supply of microchips and etc during the COVID-19 pandemic, Youlong saw fluctuations in business performance in the last three years. But the company now is back to normal development. In the first five months of 2023, Youlong reported a total import-export value of 144 million yuan, up 58.89% year on year.

So far this year, Youlong has participated in a number of overseas exhibitions and achieved significant results. The allowances provided by the commercial departments help reduce the company's costs and boost its confidence in reaching global markets.

In the first half, the Zhongshan Bureau of Commerce took multiple moves to cope with the severe foreign trade situation. For example, it rolled out the "100 Exhibitions for 1,000 Enterprises" campaign to help enterprises participate in more exhibitions and grab more orders. A fund of 35 million yuan was allocated to subsidize exhibition-participating enterprises. Government departments and business associations also organized enterprises to take part in the exhibitions in Southeast Asia, the Middle East, Latin America and other regions so as to develop emerging markets.

As of the end of July, some 1,277 enterprises in Zhongshan joined the campaign and reported potential orders worth more than 4 billion yuan. In the first half, imports and exports with Russia, the Middle East and other emerging markets increased by 64.6% and 10.1% year on year respectively.