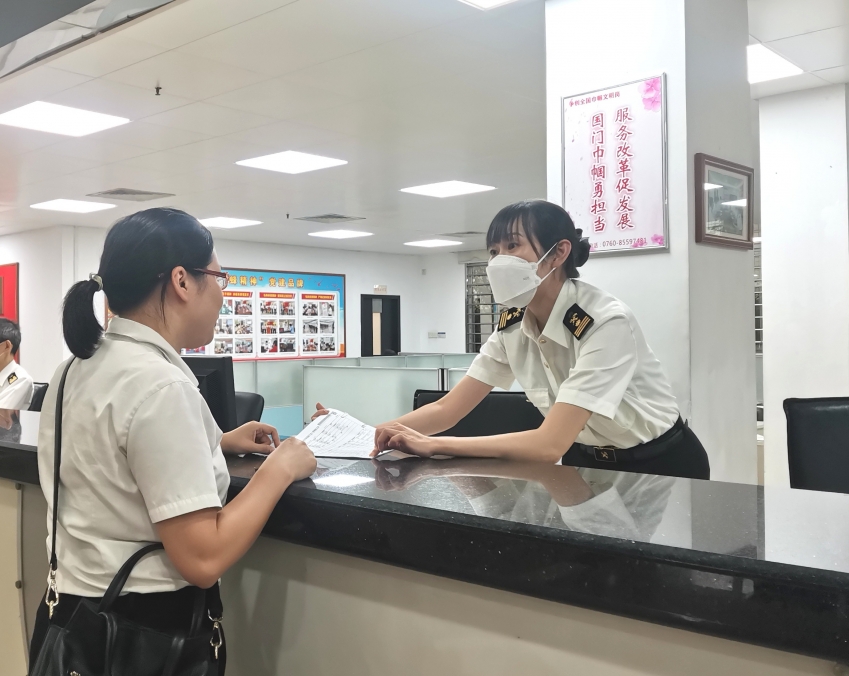 A customs officer at Zhongshan Port explains the rules of origin under the RCEP to an import enterprise. (Photo by Ma Yueru)

A shipment of basic magnesium sulfate imported from Japan by Mitsui Chemical Composite Plastics (Zhongshan) Co cleared customs smoothly after being inspected and released by Zhongshan Port Customs. With the Regional Comprehensive Economic Partnership (RCEP) Certificate of Origin issued by Japan, the company obtained a tariff preference of 16,800 yuan.

From January to July this year, enterprises declared imports under the RCEP to Zhongshan Port Customs, amounting to 128 million yuan, and received a tax preference of 3.8493 million yuan in total. The main benefited commodities include medicines, chemical raw materials and auto parts.

"In June of last year, under the guidance of Zhongshan Port Customs, our first batch of imported goods benefited from RCEP tariff preferences. Over the past year, we have utilized RCEP policies to achieve tariff reductions and exemptions totaling over 3 million yuan, effectively lowering our production and operational costs," remarked Liu Weijie, a staff member of Guangdong Landu Pharmaceutical Co.

The RCEP policy took effect on January 1, 2022. With the official entry into force for the Philippines on June 2, 2023, the RCEP has come into full effect for 15 members. Japan, South Korea and some other members are important sources of imported raw materials for foreign trade enterprises in Zhongshan.

To help enterprises make good use of the RCEP, Zhongshan Port Customs conducted policy promotion and training across the city, focusing on such topics as "RCEP Rules of Origin" and "Key Points for Customs Clearance Benefits of Imported Goods under the RCEP".