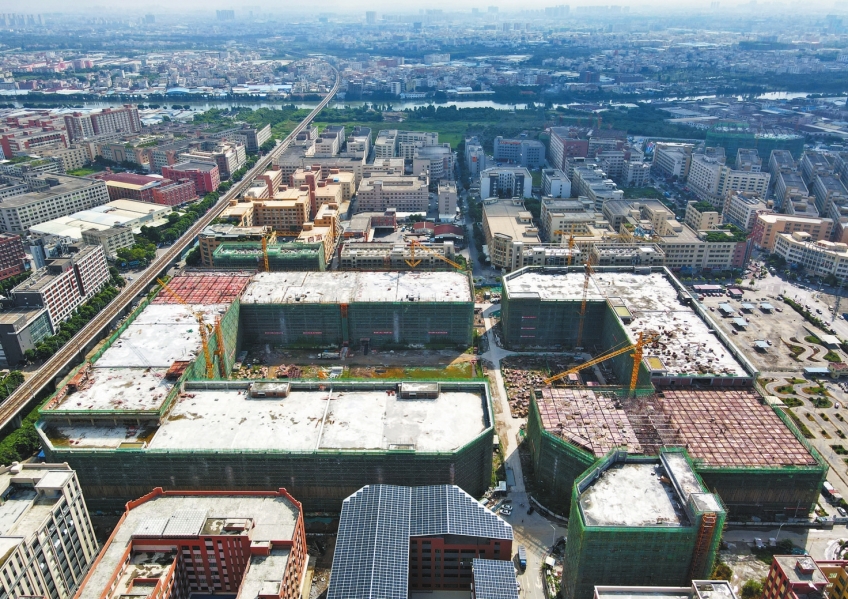 A u-shaped building complex is springing up at the construction site of the MTC Photoelectricity Industrial Park in Guzhen Town's Tongyi Industrial Park. [Photo by Wen Bo]

The u-shaped building complex is rising straight from the ground as the construction site in the Tongyi Industrial Park in Guzhen Town bustled with activity.

The MTC Photoelectricity Industrial Park was invested in and built by MTC Lighting, a wholly-owned subsidiary of the listed company Shenzhen MTC Co Ltd. It is expected to be completed before the Spring Festival next year, and its annual output value will reach 2 billion yuan after beginning production.

The project will be the headquarters building of MTC. It will carry out R&D, production, domestic and foreign business operations of lighting products and set up LED chip packaging production lines.

At present, many key intelligent manufacturing projects in Guzhen have accelerated their construction progress: Dark Energy Power Supply's AI intelligent manufacturing factory is expected to start production at the end of this year or early next year, 60% of the Fulin Lighting intelligent manufacturing plant has been completed, and 5 projects in the China Lighting Capital Intelligent Manufacturing Base of West Industrial Park have begun construction.