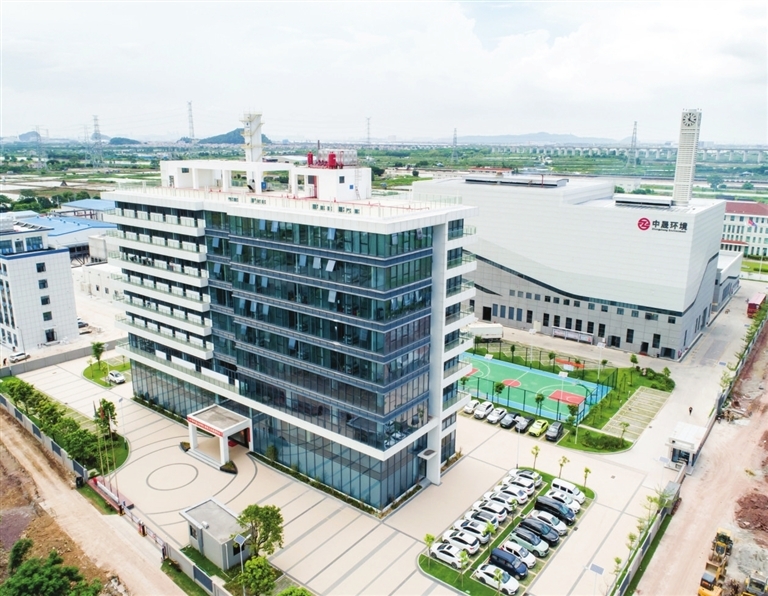 The Zhongsheng Environment company. (Photo provided to Zhongshan Daily)
To support the high-quality development of the industry sector, the Zhongshan Bureau of Ecology and Environment has made significant efforts to promote the construction of hazardous waste treatment projects.

So far, there are three new hazardous waste treatment projects in Zhongshan, namely the Kangfeng Green Industry Service Center (Phase I), Zhongsheng Environment's plasma gasification and melting center, and Sanjiao Gaoping Sewage Treatment Co's harmless disposal plant of hazardous waste. With these three projects, Zhongshan is now capable of treating about 95,000 more tons of hazardous waste per year.

"In the past, we have to transport the hazardous waste to other cities or even other provinces for treatment. Now, the disposal of hazardous waste can be done by qualified environmental protection enterprises in Zhongshan, which is convenient and cost-saving," said Min Zhihua, director of environmental affairs of Guangdong Ellington Electronic Technology Joint Stock Company located in the Gaoping Chemical Industry Park in Sanjiao Town.

Currently, there are 10 units in Zhongshan capable of treating hazardous waste, with a total utilization and disposal capacity of 317,400 tons per year. This includes a disposal capacity of 192,000 tons per year and a comprehensive utilization capacity of 125,400 tons per year. In 2022, they received a total of 160,200 tons of hazardous waste, and 160,000 tons have been utilized and treated.