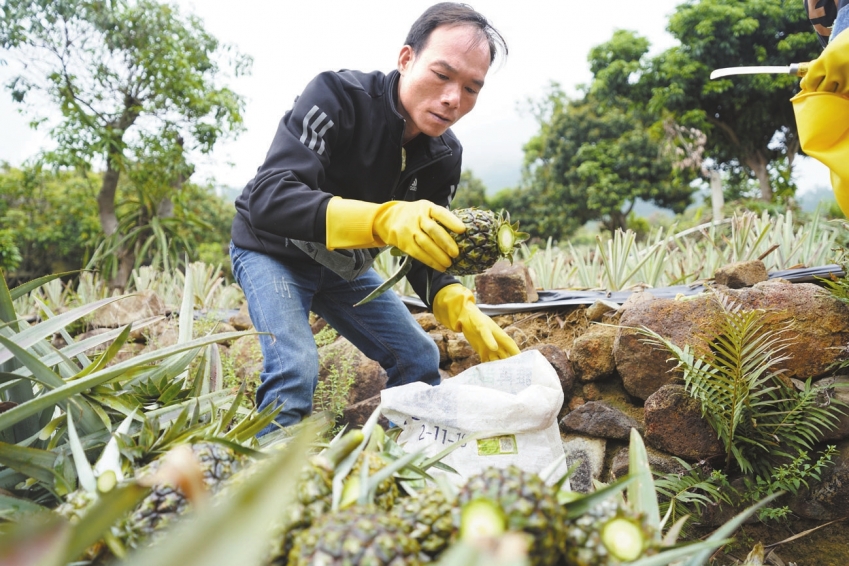 It is the ripening season for pineapples. In Yaji Mountain, pineapple farms are filled with the fragrance of ripe Shenwan Pineapples.

Shenxi Village, the largest production base of Shenwan Pineapples, plans to build a specialty fruit distribution center integrating technical planting guidance and sales to promote this Zhongshan specialty brand.

On December 19 last year, Shenxi Village was honored as a "Guangdong Famous Special Industry Village" for its Shenwan Pineapples. Zhong Shaohua, general Party branch secretary of the village, said that there are 2,100 mu (about 140 hectares) of pineapples in Shenxi Village. Shenwan Pineapples are available on the market from April to September every year. Now is the time to pick pineapples.

This year, Shenxi Village plans to focus on the Shenwan Pineapple industry and build a specialty fruit distribution center, widen the roads for picking fruit and perfect pineapple sightseeing routes to promote Shenwan Pineapples.

In the coming May, Shenwan Town will hold a pineapple tourism festival. Tourists from Zhuhai, Foshan, Shunde and other neighboring areas can enjoy the pleasure of fruit-picking at the "Pineapple Mountain".

Zhong Shaohua added that in the future, they will further improve the environment of the Yaji Mountain Forest Park as well develop local homestays, leisure agriculture and forest tourism so as to promote rural revitalization.