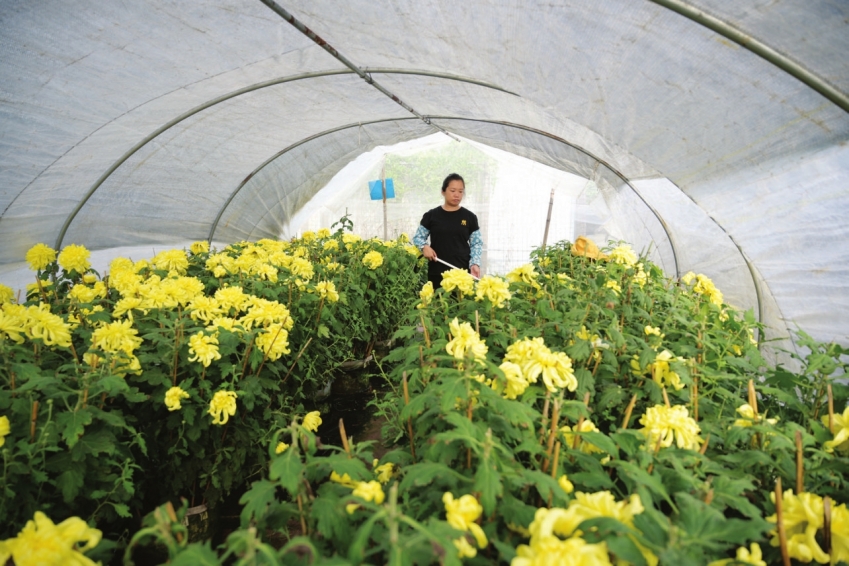 Xiaolan Town is well-known as "Jucheng", or "the City of Chrysanthemums", with chrysanthemums playing a large part in its culture. Every autumn, tourists from all over the country as well as from abroad can relish in the beauty of the chrysanthemums and taste dishes themed around the chrysanthemum which are cooked with the petals.

After cultivation and development, Zhongshan now can provide edible chrysanthemums out of season, so, the chrysanthemum feast is available all year round.

The edible chrysanthemum planting base, located in Yongning Community in Xiaolan Town, is making solid efforts to develop out-of-season edible chrysanthemums. The chrysanthemum economy boosts rural revitalization by integrating agriculture, culture and tourism.

"This is the chrysanthemum breed we have developed for out-of-season consumption, called 'Yellow Blossom'," said Qu Juanhua, director of the base. "Instead of blooming in autumn and winter, the out-of-season chrysanthemums also bloom in spring and summer by controlling the temperature and amount of sunshine received."

"Now people pay more and more attention to a healthy diet. Chrysanthemums taste sweet and fragrant, and have high nutritional value, so they are very popular among diners." Qu noted that her professional experience made her notice the prospective market of out-of-season chrysanthemums, so she decided to give it a try.

"At present, edible chrysanthemums are sold to Guangdong, Tianjin, Beijing, Suzhou, Hangzhou, Shanghai, Sichuan, Hunan, Hainan and other places. We are looking for more arable land and plan to expand our production by the end of the year." Qu said.

"With advancements in technology, we intend to build an industrial base for chrysanthemum planting and expand the scale of production to improve efficiency and boost rural revitalization." In the future, Qu also plans to develop a family tourism project to better pass on Xiaolan's chrysanthemum planting culture.