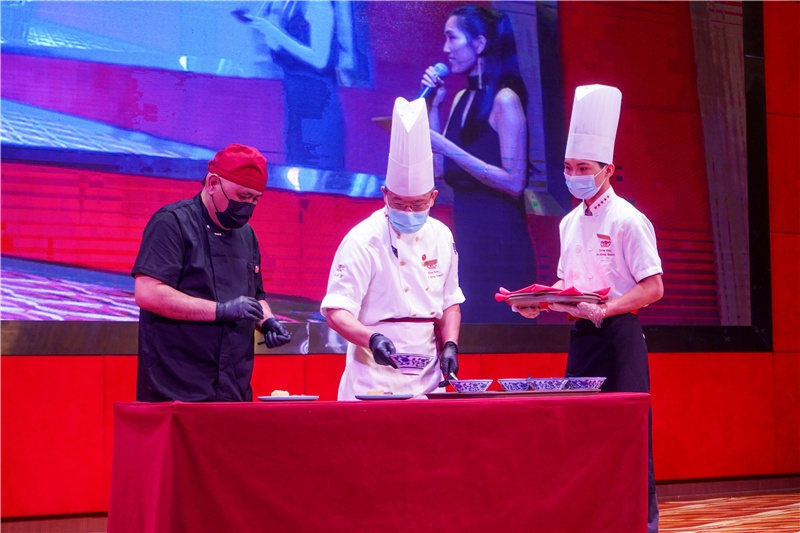 Chefs from Zhongshan and Peru make delicacies together. [Photo by Feng Mingmin]

With the theme of "Entering Latin America", the 2021 Zhongshan-Latin America Culture Exchange Week (Latin American Food Festival) started on the afternoon of October 12 at Zhongshan Hot Spring Resort. Nearly 30 diplomatic envoys and consul-generals in Guangzhou from 19 Latin American and Caribbean countries attended the opening ceremony.

At the opening ceremony, chefs from Zhongshan and Peru worked together to make a new fusion dish "Braised Minzhong Goose with Latin American Walnut Sauce and Mashed Potato", which won great applause from guests.

The event was co-hosted by the Zhongshan Bureau of Foreign Affairs, Zhongshan People's Association for Friendship with Foreign Countries, and the consulates general of 11 Latin American countries in Guangzhou, including Mexico, Colombia, Brazil, Chile, Cuba, Panama, Peru, Argentina, Venezuela, Ecuador and Uruguay.

During the event, Zhongshan's Cantonese cuisine chefs and Latin American chefs will exchange cooking techniques. The Latin American Food Festival will offer citizens a buffet of Latin American cuisine.