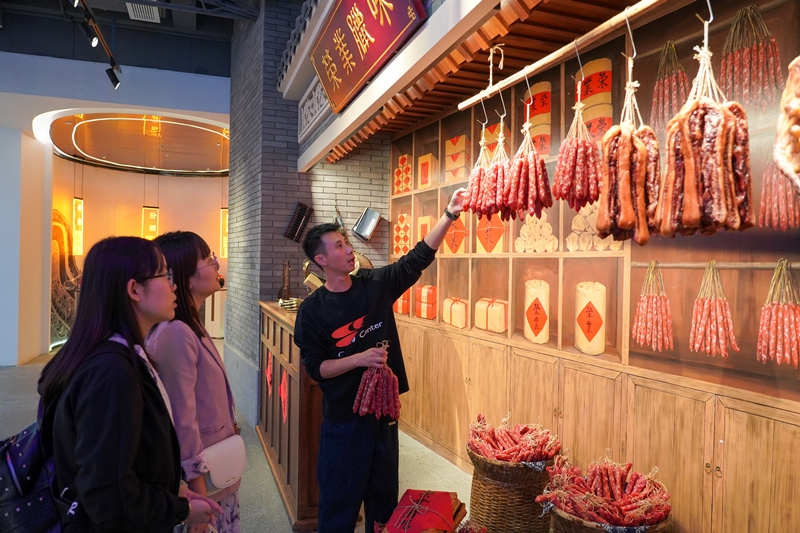 With the Double Eleven Shopping Festival around the corner, many cured meat producers in Huangpu Town are pitching their products via live-stream. From cured meat rice bowls to mini sausages and even prepared dishes, a growing number of enterprises are marketing Huangpu cured meat and other local food through live-streaming.

De Fu Meat is one of the companies to utilize e-commerce early. The company has kept adjusting its business strategies of cured meat production, developed special product lines, and introduced diverse cured meat products in small portions and of different flavors since starting live-streaming sales, according to He Quanhui, general manager of the company.

Online sales enable cured meat companies to communicate with consumers face to face, understand their needs quickly, and map out product strategies in time, thus boosting sales, He Quanhui said.

In the e-commerce field, online platforms like Taobao, JD.com and WeChat Applet Mall have gradually become the main sales fronts for cured meat producers in Huangpu, and its cured meat sales through live-streaming accounted for about 23% of the total sales in 2021, according to He Zhenfeng, director of the Huangpu Bureau of Agriculture and Rural Affairs. In recent years, the popularity of live-streaming has grown among Huangpu-based cured meat producers. In 2021, the total sales of Huangpu cured meat through live-streaming exceeded 100 million yuan.

There are more than 200 cured meat processing and related enterprises in Huangpu Town, including 36 enterprises with annual sales of more than 5 million yuan each. A number of well-known cured meat producers like Wing Yip, De Fu, Jinrong, Taihe, Yinhua and Chuangge have emerged as industry leaders.