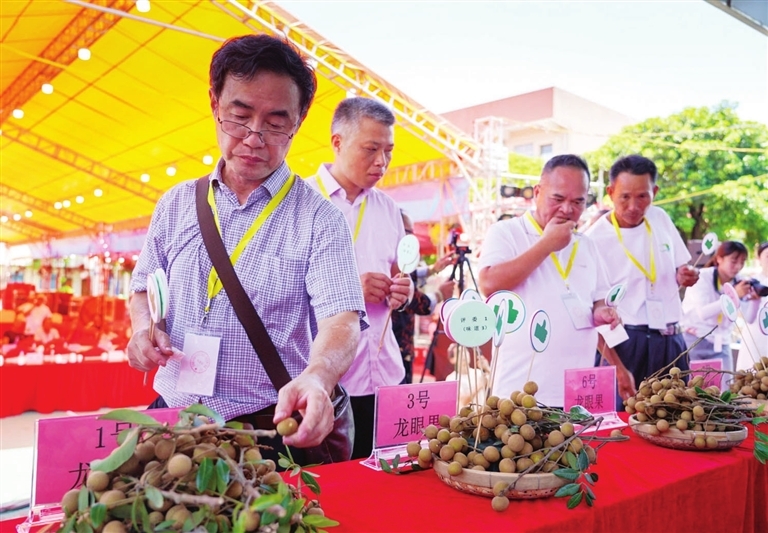 The Dongfeng Xigubu "Double Longans" Cultural Festival & The 4th Zhongshan Crisp-fleshed Longan (Xigu Shixia) Fruit King Competition took place on July 14. Villagers selected the best fruit from their longan trees for the competition, and the fruit king was picked after the judges' tasting and voting.

Crisp-fleshed longan grown in Xigubu Village has enjoyed a longstanding reputation for its large, crisp, juicy flesh and small core. In recent years, while expanding the growing area, Xigubu has promoted the industrialization of longan by registering trademarks, extending the industrial chain, standardizing growing and selling, and developing new channels for online sales, thus building longan into a major industry that enriches the village.

There are currently more than 30,000 longan trees in the village, of which over 3,000 bear fruits with an annual yield of more than 25 tons. This year, Xigu Crisp-fleshed Longan is well packaged and available online.

So far, Xigubu Village has registered two trademarks, and is applying for national geographical indication products. To further enhance the brand image, the village has set up a sales outlet for authentic Xigu Crisp-fleshed Shixia longan, and set uniform purchase standards and unified prices for the first time.

Aside from longan fruit, Xigubu has also launched longan leaf tea and longan-related featured products such as foodstuffs, pastries and drinks.