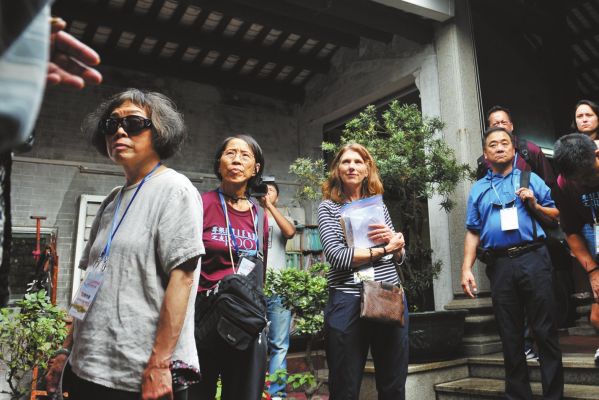 Ouyang Karen Smith (in striped shirt) and her relatives visit Zhongshan to search for their roots.[Photo by Miao Xiaojian]
Several Chinese-Americans gathered in front of Qingyu Lane in Daling Village of Torch Development Zone on November 4. They are descendants of Ouyang Qingyu's family. Ouyang Karen Smith, a foreign daughter-in-law with brown pupils and hair, was really excited. She kept taking pictures with cellphone and asking her relatives about the stories of Ouyang's family.
Karen Smith, born in the US, married Ouyang Weili, a descendant of Ouyang's family, in 1986 in San Francisco. Since then, she had developed a strong feelings of Zhongshan where she had never been to.

Ouyang Karen Smith was deeply attracted by the hundred years of history of Ouyang Qingyu's family and collected large amounts of data. This time, she came to Daling Village for the first time with her husband and daughter to look for the memories of the Ouyang's family and feel her faraway "hometown" imprinted in black and white photos.