Nearly 1,500 overseas participants to attend this year's Zhongshan Charity Parade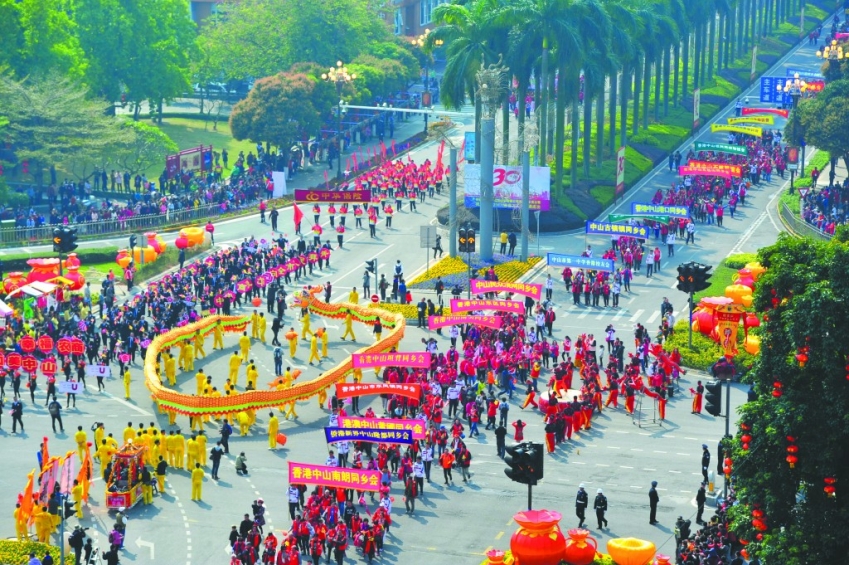 The Zhongshan Charity Parade has become a major activity for compatriots from Hong Kong, Macao, and overseas locations.[File photo]
The Zhongshan Charity Parade, which will be held on February 19 this year, has become a major activity for compatriots from Hong Kong, Macao, and overseas locations. It marks a time when these individuals can enjoy their annual homecomings and contribute to their hometowns.

According to The United Front Work Department of Zhongshan CPC Committee, a total of 1,497 overseas individuals from 45 societies in 11 countries and regions, such as the US, Canada, New Zealand, Australia, Malaysia, the UK, and Japan, as well as Hong Kong and Macao, will join this year's parade.

Many overseas contributors have also supported Zhongshan's public welfare commitments by actively participating in the charity parade donation drive. Great results have been achieved through friendship associations and other overseas Chinese groups.

Xiao Rong'an, whose ancestral home is in Shaxi Town, Zhongshan, has been running a small trading company in Hong Kong. Recently, he made a donation to the Zhongshan Charity Parade via the Zhongshan Youth Federation of Overseas Chinese. "Zhongshan is my hometown. I will do what I can to support Zhongshan's charitable commitments."

In addition to monetary donations, many people also devote their time and efforts by taking an active part in the Zhongshan Charity Parade itself. Year after year, these generous volunteers have helped to guarantee a smoothly run activity.

He Qibing, 70, has joined the Zhongshan Charity Parade 15 times in the past 21 years. She has also taken an active role in other public benefit activities. She has even provided support to welfare homes, nursing homes, orphans, and poverty students along with help from her neighbors and friends.