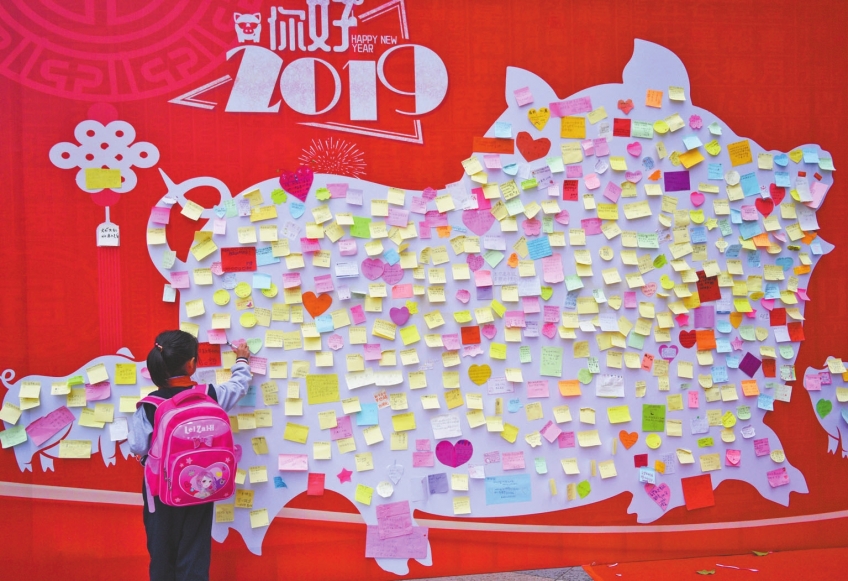 A Wish Wall with a pig painted on it stood inside of the Tiecheng Primary School.[Photo by Wen Bo]

The 30-day winter holiday ended on February 18. More than 600,000 city kindergarten, primary, and secondary school students were ushered into the new semester. This year is the "Year of Pig" on the lunar calendar. The characters and cartoons that relate to the "pig" also appeared in schools.

In the Langqing Primary School located in East District, "Pigsy," from the Chinese novel "Journey to the West," was standing at the front gate early to welcome the students back to school. He became a popular attraction for students to take the opportunity to get a photo.

At the entrance of the Ziling Primary School, also in East District, "Peppa Pig" and "McDull" played by the teachers were handing out red packets filled with candy and greeting paper to the students.

In the Tiecheng Primary School, there is a Wish Wall with a pig painted on it. Teachers were standing in front of it, holding blessing cards, to welcome the students.

The opening ceremony of the Cuijing Dongfang Primary School was themed "Chasing Dreams." Each student wrote down their dreams, put the list in a red envelope, and handed it over to the teachers. Once they graduate, the teacher will return the dream lists back to them for review and encourage them to pursue their next dreams.

In addition,the Chinese New Year atmosphere could be felt everywhere on the opening day of school.

The Zhuyuan Primary School organized a "traditional temple fair-like" opening ceremony on opening day. All 25 school classes carried out various activities related to the Spring Festival. These included dumpling and rice glue ball making, paper-cutting for window decorations, lucky character writing, firecracker and lantern making, and many others. The school also invited parents with calligraphy expertise to teach the students to create New Year's scrolls.