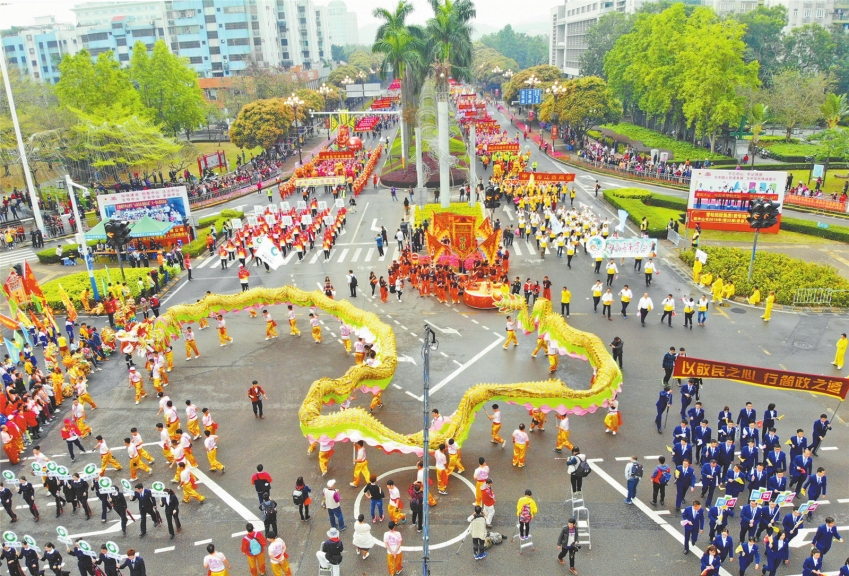 The 2019 Zhongshan Charity Parade was held Tuesday morning in Zhongshan. More than 260 teams comprised of over 20,000 people from all walks of life marched along while surrounded by the music "We Walk Along With Love." Artistic performances were also included; each intended to spread the spirit of universal love and carry forth a new trend for civilization in the city.

During the starting ceremony, Liang Huiling, Secretary of the Party Committee and Executive Vice President of the Red Cross Society of China, and Wei Weihan, Deputy Secretary of the Zhongshan Municipal Committee of CPC and Mayor of Zhongshan, issued medals to the 2nd 'Top 10 Red Cross Volunteers.' Medal recipients were honored for their outstanding contributions to charity.

It was reported that approximately 108 million yuan in donated funds and materials were raised through this year's event. The figure marks a new high.

"The Zhongshan Charity Parade celebrated its 32nd anniversary this year, and it has made many great, hard-won achievements. The annual event is a blend of the Zhongshan people's patriotism and spirit of universal love. I hope this variety of event will be cherished by citizens and passed down to future generations," said Tang Bingquan, former Executive Vice Governor of Guangdong Province and Chairman of the Sun Yat-sen Foundation.