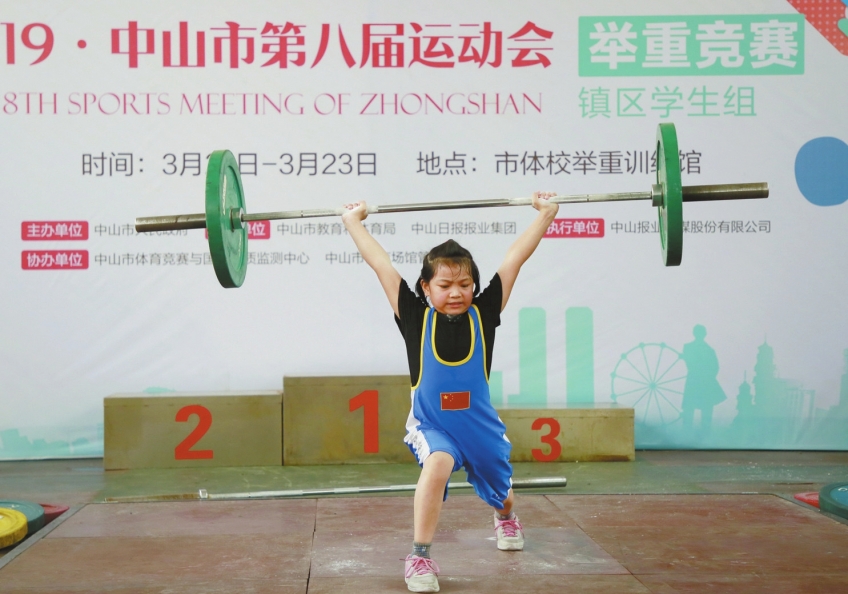 The first gold medal winner of the 8th Zhongshan Sports Meeting came out on the morning of March 21 at the Zhongshan Sports School. He Qinghua, an 11-year-old girl from the Torch Development Zone, won the women's 35kg class snatching championship in the township student weightlifting competition. She also received gold medals for the clean and jerk and total score of the same event.

Her father, Mr. He, witnessed her victory at the scene. He said that this was the second time for He Qinghua to participate in the large-scale sport events. In the same competition last year, she failed to win a prize.

The 8th Zhongshan Sports Meeting will officially kick off on August 8. A total of 20 township student competitions for track and field, swimming, basketball, football, volleyball and others will be all finished before the opening ceremony.

The township student weightlifting competition ended on the afternoon of March 23. Dongsheng, Xiaolan and Henglan towns won the top three in team total score in the junior high school group. Torch Development Zone, Xiaolan and Henglan towns were among the top three in team total score in the primary school group.