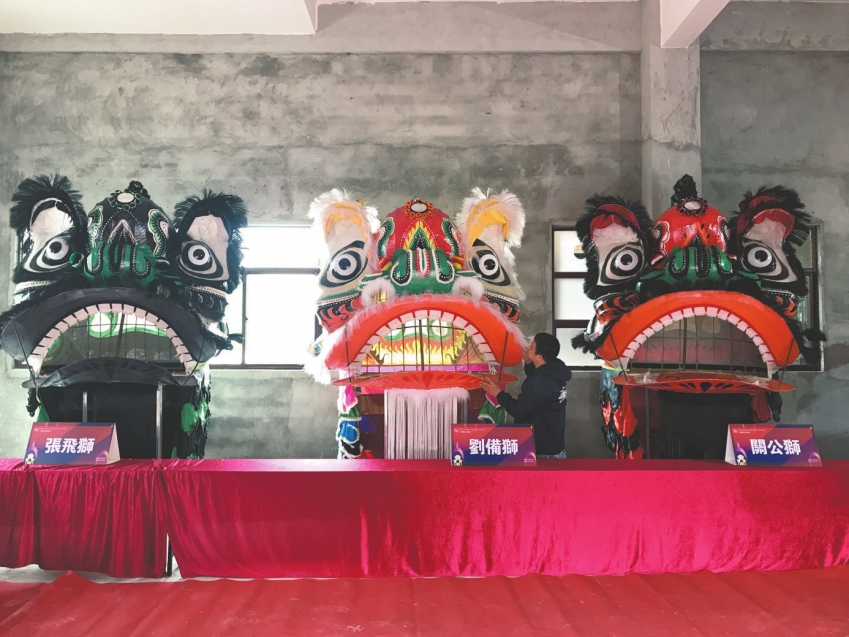 The 2-meter-wide oversized lion dance heads made debut. [Photo by Zha Jiuxing]

"Currently, only few people in Guangdong can make such large lion dance heads, with over 2 meters in width. It took me one month and a half to finish them," said Master Peng Yuzong of the Shengshi Dragon and Lion Dance Martial Arts Troupe, pointing at the three oversized lion dance heads, named "Liu", "Guan", and "Zhang" respectively, and an 11-meter-long "colorful phoenix".

His personal craft exhibition kicked off on May 5, and it was the first personal show regarding traditional culture of the Shengshi "April 8" Tourism and Culture Festival of Shaxi Town, Zhongshan City.

Ruan Jiacheng, Vice Secretary of the Youth League Branch of Shengshi Village, said this year's tourism and culture festival would last from May 5 to May 12, during which a series of activities including intangible cultural heritage lectures, "Wooden Dragon Parade", the opening of the folk museum, and Luanxi Cake-making class, etc would be held. The event will reach its climax on the morning of May 12, when the Folk Arts Grand Parade and the Intangible Cultural Heritages joint performance would be held at Shengshi Village.