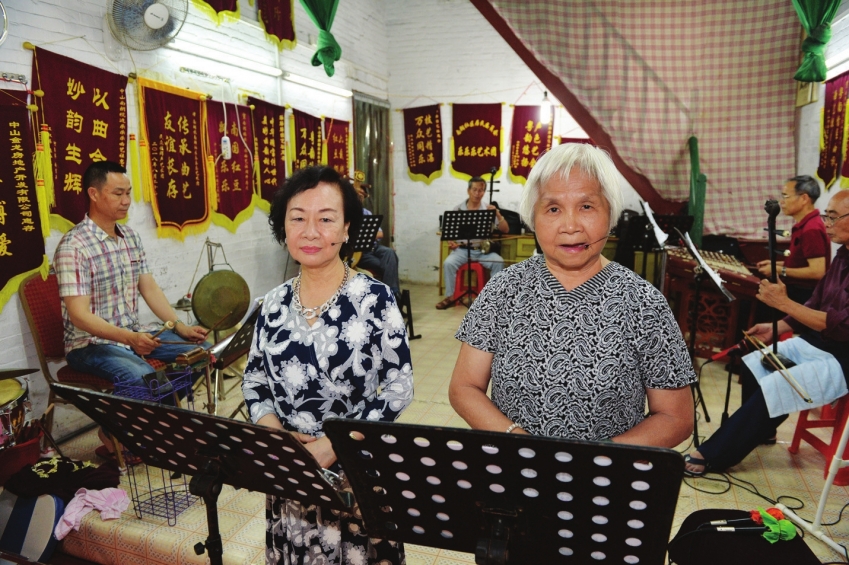 Nanlang-based Leyuele Art Troupe was in the rehearsal on April 25. The first in the right of the front row was Jian Sumei.[Photo by Li Xusheng]

Speaking of Jian Sumei, villagers from Lanbian area's Pushan Village in Nanlang Town always smiled: "I do know her, Aunt Mei, who is good at Cantonese opera."
In May 2009, enthused by the Cantonese opera, a traditional art, super opera fan Jian Sumei raised funds on her own to found the Leyuele Opera Club. Since then, she has considered it as the "second home" and devoted herself to all kinds of work of the opera club.
The club had only 15 members in the beginning, but over 20 later. Currently, not only villagers in Nanlang Town were attracted to the club, but also many opera fans from Shiqi District came to join the club activities every week.

Jian Sumei uses an idle ancestral house borrowed from an American overseas Chinese as the club activity venue. "Since I use an overseas Chinese home property to establish the club, I have a dual responsibility to preserve the house as well as to manage the club well," said Jian Sumei.

In 2016, Jian started to bring Cantonese opera performance to the countryside, boosted by cultural sector in Nanlang Town. In three years' time from 2016 to 2018, Jian and other opera club members had provided a total of 57 special performances at 15 villages and town-level nursing homes across the city.

In 2018, the opera club was turned into the Leyuele Art Troupe. "I will continue to inherit and carry forward Cantonese opera to make it prevailing in the countryside," said the 78-year-old with a bright smile.