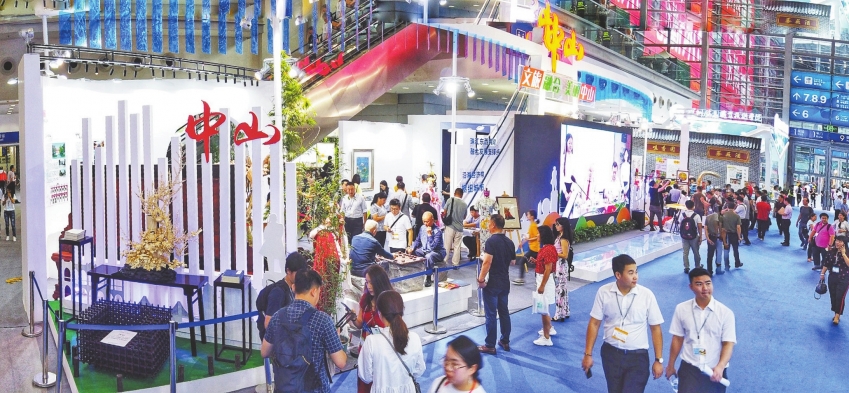 The Zhongshan Pavilion came on stage at the 15th China (Shenzhen) International Cultural Industries Fair.[Photo by Sun Junjun]

The five-day 15th China (Shenzhen) International Cultural Industries Fair (ICIF) kicked off on May 16 at Shenzhen Convention and Exhibition Center. This is the 12th time Zhongshan Pavilion has taken part in ICIF. Guests from home and abroad can appreciate the achievements of Zhongshan's cultural and creative industries in this pavilion demonstrated by over 30 cultural enterprises and 20 craft masters' works.

The theme of Zhongshan Pavilion this year is "Culture & Tourism Makes Beautiful Zhongshan" with culture and tourism elements blended into the exhibitions.

Cultural and creative exhibitions in Zhongshan Pavilion showcase the local craft features and their levels. Lifelike wax statues, genius mammoth ivory carvings, creative furniture, picturesque embroidery, agarwood products representing Zhongshan traditional cultures and local characteristic, food from Juxiangyuan company, and other products have attracted many professional photographers for their combination of the old and the new.

There were also interactive shows including gold, ivory and wood carvings, embroidery and sand paintings that have attracted many visitors.

Zhongshan tourism elements, such as time-honored brands in the city, geographically symbolic products and souvenirs, were also seen at the pavilion.

In the specialty section, visitors can "taste" Zhongshan from local intangible cultural heritages including the time-honored brand Juxiangyuan, Jucheng Liquor Factory and Huangpu Cured Meat, as well as get to know the old stories about Zhongshan at Sun Yat-Sen's former residence (5A Scenic Spot), Dachong Rosewood Culture Expo City (4A Scenic Spot), Huayi Lighting Square (4A Scenic Spot) and Juxiangyuan Industrial Tourism Area (3A Industrial Tourism Park).

Many visitors tried and bought Zhongshan souvenirs during the event.