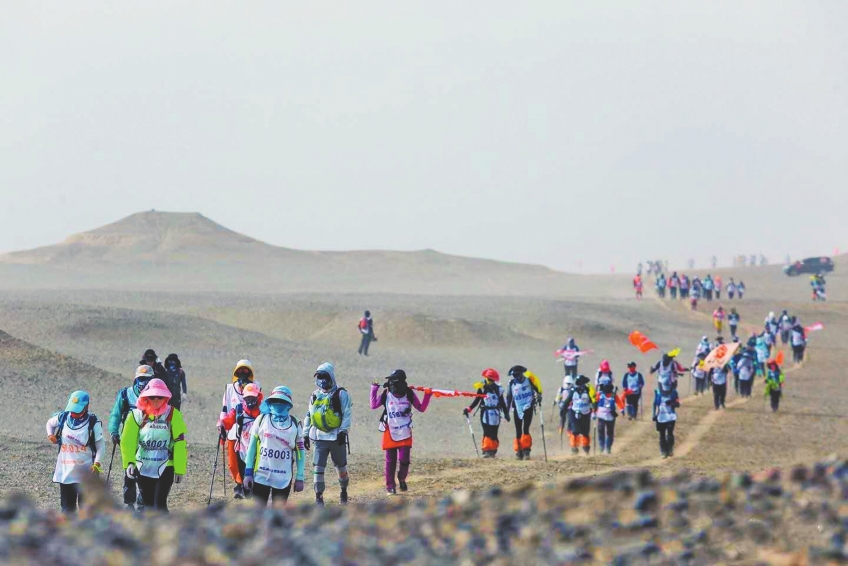 Yellow sand storms could stop no one's pace.[Photo provided by interviewee]

Over 60 entrepreneurs, business executives and sports lovers from Zhongshan participated in the 5th China City Gobi Trek Challenge in the immense Gobi desert in Dunhuang, Gansu Province from May 11 to 14. Together with over 2,000 people from more than 200 cities nationwide, they had completed a challenge journey of exploration spirit.

The Zhongshan tourism players set out from Jianquanzi Village and ended up at Yangguan Pass, passing one after another stelas along the ancient Silk Road and the Jade Gate Pass under the blazing sun and storming sand. Nearly 100 out of the 108 kilometers of the route were in the no-man's land.

Xiangweishan Catering Management Service Co Ltd organized over 50 senior executives and key employees of its subsidiaries to join the activity. "We hope to exercise our team and improve its willpower," said the chairman Zhang Chengjian.

Many children can only get to know the Gobi Desert from books and TV programs. But Jiang Jiajia, a grade-four student from Zhongshan-based Sanxin Bilingual School, had an opportunity to experience the Gobi Desert herself by foot.

"School teaching is just part of the education. It is also important to learn from life. I want my daughter to experience a different life under such tough circumstances," said Li Bibo, Jiang's mother.

Hiking in the Gobi desert, diving and parachuting, crossing a prairie and etc, customized sports tourism is becoming a new holiday option for many Zhongshan people, whose demands on tourism quality keep rising in recent years.

"Over the past years, an increasing number of people blend their sports hobbies into travel," said Qi Huizhen, General Manager of Zhongshan Customs International Tourism Co Ltd.