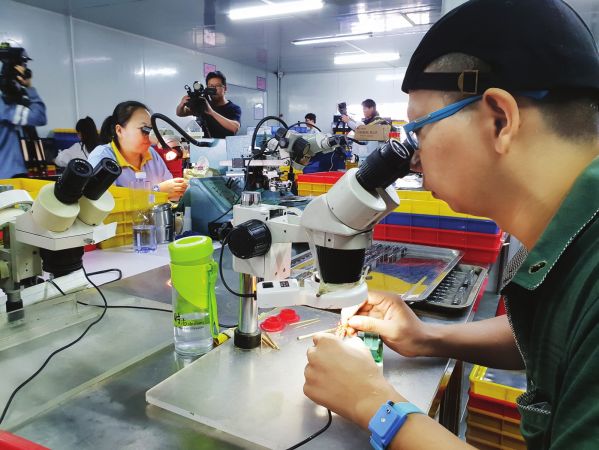 Workers deal with die bonding process with microscopes.
Production equipment of different kinds are placed in the dust-free manufacturing workshops of Zhongshan Pujing Electronic Technology Co Ltd. Workers and the machines were cooperating orderly.
"We spent 10mn yuan on purchasing 11 ultrasonic weld machines and 8 die bonders this year. So far the company has realized automatic operation in front process, which helps increase the capacity for 10 times. For example, it took us 48 hours to produce a LED display panel previously, but only 4.8 hours now!" Xiong Qinglin, business chief of Pujing, says with excitement.

Pujing was founded in 2013. It is engaged with production of LED color screen, nixie tube, lattice block, electronic plastic part and light panel in the fields of household appliance, automobile, medical device, lighting product, and etc.

The company has already set up probation base for Zhongshan Technician College and Guilin University of Electronic Technology and provided photoelectric sessions for cultivation of professional and technical personnel.