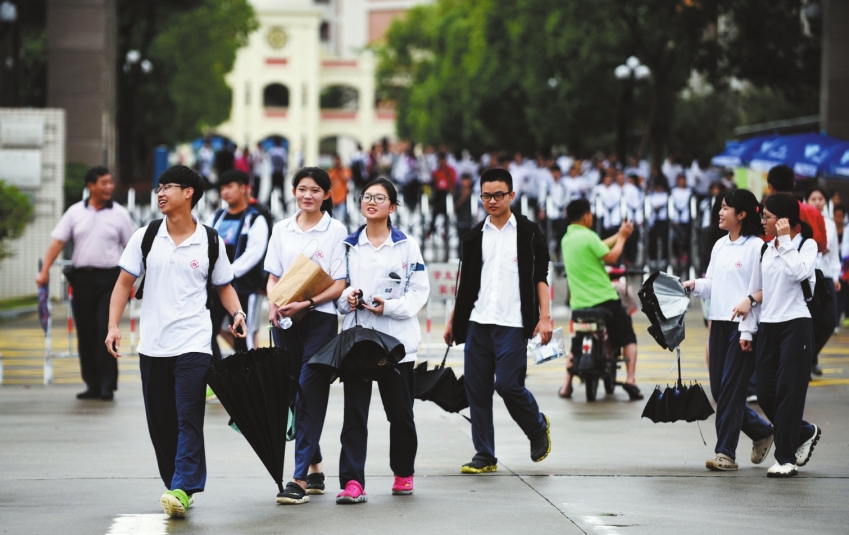 Last year's National College Entrance Examination started on June 7, 2018.[File photo/Zhongshan Daily]
The Government of Guangdong Province issued the Implementation Plan for the Comprehensive Reform of the Enrollment System for General Higher Education Institutions on April 23. This action signaled the official launch of a new round of comprehensive reforms to the national college entrance examination.

According to the plan, the National College Entrance Examination in Guangdong Province will fall into two time periods each year; each summer and each spring. The examination and enrollment of undergraduates will be primarily take place in the summer. This is consistent with the current college entrance examination. The examination subjects are designed with the model of "3+1+2" (3 compulsory subjects, 1 limited optional subject and 2 optional subjects).

The Reform Plan began implementation with the students who were enrolled from the autumn of 2018. By 2021, the college entrance examination for those students will resort to the new model of combined examination and admission processes.

Starting in 2021, the general college entrance examination will consist of Chinese, mathematics, foreign languages (including English, Russian, Japanese, French, German, and Spanish), and 3 optional subjects.

For students who choose either an arts major or a science major, the three subjects of Chinese, mathematics and foreign languages are compulsory. Additionally, corresponding examinations will be held each June and they will be consistent with the time specified for the national college entrance examination.

For the three optional subjects whose scores are calculated into the total results, candidates may make their educational career decisions in accordance with their desired universities, personal interests and talents. They are required to choose between physics and history. They are also required to choose two subjects from ideology and politics, geography, chemistry, and biology. These examinations will be held after the completion of the compulsory subject examinations.

Candidates who apply for the sports and art categories are required to take the special talent tests. Time for these tests is scheduled in the first term of the third year of senior high school.