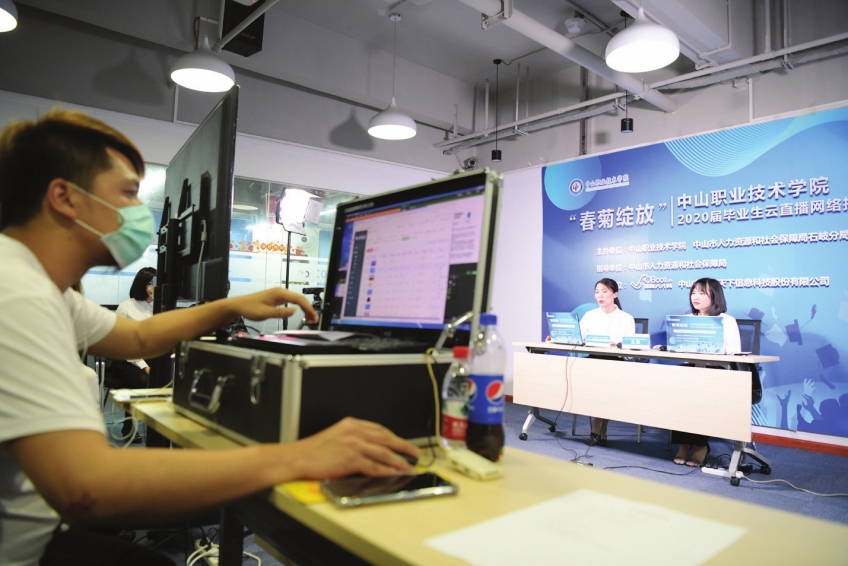 The brightly lit studio is filled with samples and mascots of various enterprises, and representatives are chatting happily with netizens...

On May 12, the 2020 Zhongshan First Live Streaming Online Job Fair for College Graduates, sponsored by Zhongshan Polytechnic and Shiqi Human Resources and Social Security Bureau, was officially launched online at job001.cn. Relevant heads of the Zhongshan Human Resources and Social Security Bureau and heads of seven enterprises, including Perfect (China) Co Ltd, took turns hosting the livestream to publicize policies, release employment needs and interact with job seekers.

The live broadcast, which lasted for about 2 hours, attracted about 40,000 viewers and received 151,000 "likes".

"Compared with the one-on-one face-to-face communication in traditional job fairs, the online live streaming method is more efficient and effective. Besides, this novel method is more popular with young people." Lu Lin, recruitment director of Human Resources Center from Perfect (China) Co Ltd said.

Affected by the epidemic, this year is called "the hardest graduation season in history". "Compared with the same period last year, the employment rate of graduates this year has dropped by about 10%." Liu Ya, head of the Student Admissions Office of Zhongshan Polytechnic, said that in order to help graduates find jobs successfully after graduation, Zhongshan Polytechnic actively linked up enterprises and graduates, and organized job fairs and recruitment activities through various channels and forms to promote graduate employment.