CHES: Providing quality int'l education services for high-quality development of ZS
In the past two months, a group of renowned universities have came to Zhongshan to hold the admission talks, including the University of Hong Kong, the Hong Kong University of Science and Technology, the Chinese University of Hong Kong and the University of Macao. At the same time, the University of Edinburgh in Britain, the University of Sydney in Australia and many other overseas famous universities from the US, the UK, Canada and Australia have launched their online promotion sessions and they all chose China (Hong Kong) English School (hereinafter referred to as CHES).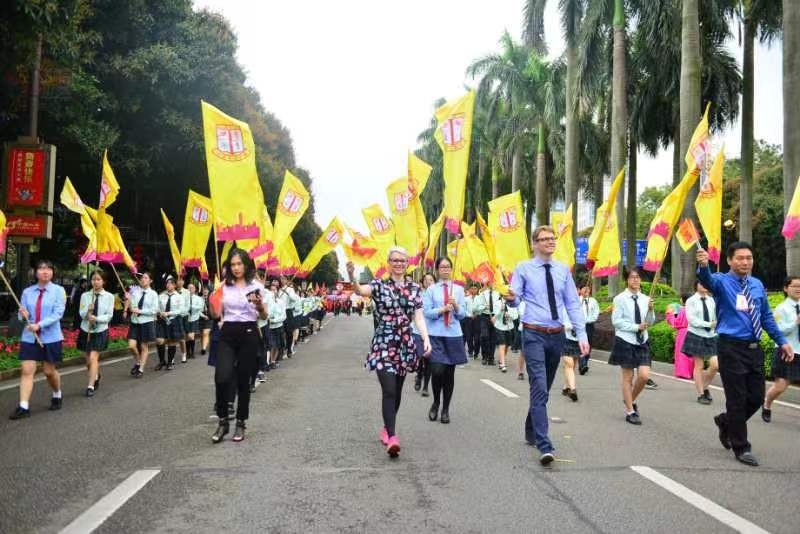 ▲Chinese and foreign teachers and students from China (Hong Kong) English School became a scenic line in Zhongshan's annual charity parade.
Meanwhile, since March this year, more than 20 CHES graduates, including Xu Haiyi, Yuen Ching Yi, Li Wenqing and Liao Zhengtao, have received conditional offers from the University of Edinburgh, the University of Manchester, King's College London, the University of Sydney, the University of Melbourne, the University of Hong Kong and the Hong Kong University of Science and Technology, which are among the top 50 QS universities.

Why do those well-known universities favor CHES graduates so much?

By adopting Cambridge International GCE A-level curriculum and Cambridge IELTS courses, employing senior foreign teachers from the United States, Canada, the United Kingdom, Australia and other English-speaking countries, implementing international teaching materials and all-english teaching, CHES has been highly recognized by dozens of well-known overseas universities. Thus, graduates from CHES can directly enter most of the famous universities in the world with their Cambridge A-Level and IELTS results.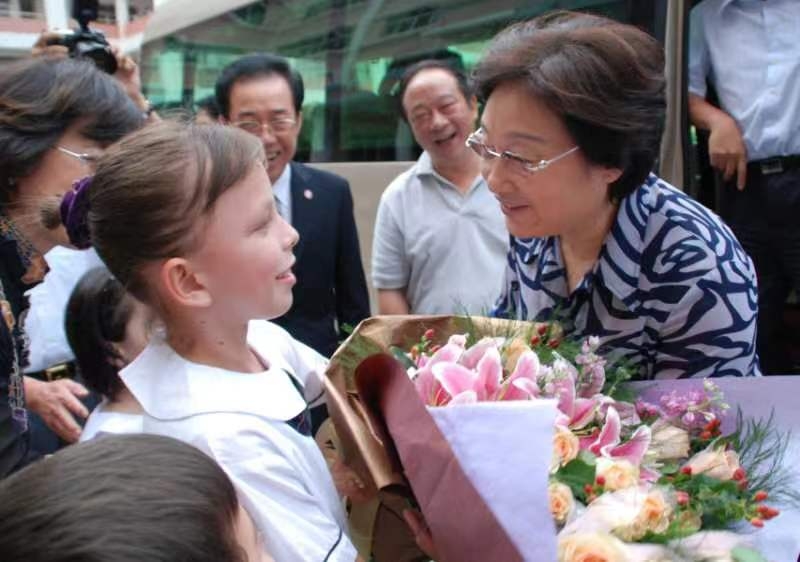 ▲Ms. Li Haifeng, former Director of the Overseas Chinese Affairs Office of the State Council, had a cordial conversation with overseas Chinese and foreign students when she visited China (Hong Kong) English School.
While implementing international education, CHES has been carrying forward the promotion of fine traditional Chinese culture for many years, winning the favor of the residents of the Greater Bay Area and overseas Chinese. At present, foreign and overseas Chinese students, and students from Hong Kong, Macao and Taiwan, account for 45 percent of the total number of students here. Many of those students are children of foreign investors, overseas Chinese businessmen and or investors from Hong Kong, Macao and Taiwan. In this sense, CHES is also a quality "infrastructure" for building an international business environment in the Greater Bay Area.

In recent years, CHES graduates have made remarkable achievements. Overall, the school's Cambridge A*, the top grade at A-level, covers the top 10 percent of those taking the exam, with candidates achieving A levels above the global average in all subjects. With excellent A-level and IELTS results, nearly 200 outstanding graduates have been admitted to top 100 overseas institutions in the world, including Harvard University, Stanford University, Pennsylvania State University, University of California Berkeley, University of Toronto, McGill University, Imperial College London, University College London and University of Edinburgh, Australian National University, University of Sydney, University of Melbourne, University of Hong Kong, Chinese University of Hong Kong, etc. More than 30 overseas Chinese students have been admitted to renowned domestic universities including Tsinghua University, Renmin University, Fudan University, Zhejiang University, Wuhan University, Tongji University, Sun Yat-sen University, Harbin Institute of Technology and others.