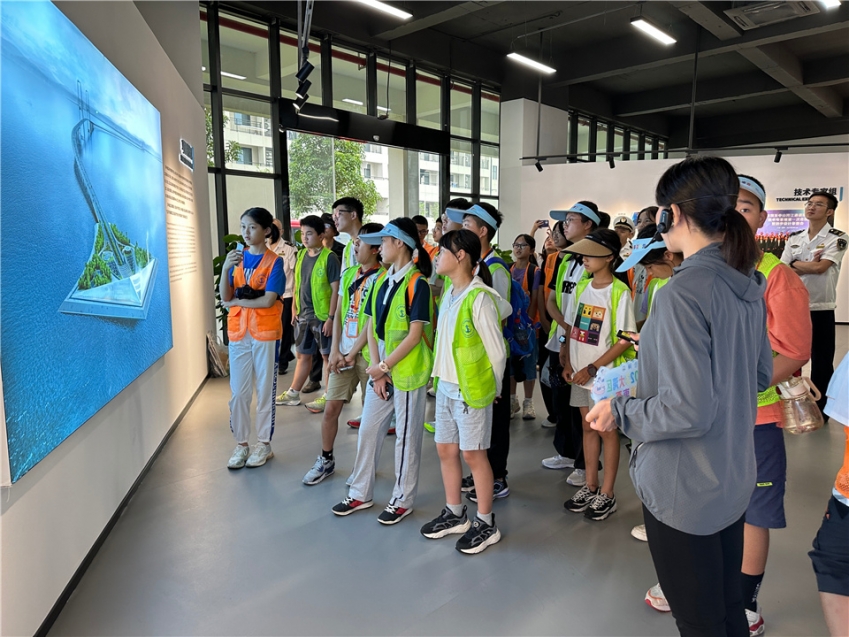 The 2023 Greater Bay Area Maritime Summer Camp (Zhuhai Area) took place in Zhongshan on August 18, allowing campers to appreciate the allure of sailing.

On the morning, 30 campers visited the exhibition hall of Shenzhen-Zhongshan Bridge Management Center and listened to engineers' detailed explanation of the bridge construction planning, updated progress and technology used. Through the magnificent planning map, the advanced 3D holographic projection and the characteristic simulated route corridor, the campers gained a comprehensive understanding of the construction of the bridge and its milestone significance as an important transportation link.

Later, the campers boarded the coastguard vessel 09378, where they had a distance view of the Shenzhen-Zhongshan Bridge from the sea to experience the magnificent scenery of this world-class project combining bridges, islands, tunnels and underwater interconnections.

On that afternoon, the campers also visited the Zhongshan Maritime Safety Administration's exhibition hall to further understand Zhongshan's maritime development history and cultural knowledge, so as to fully immerse themselves in the maritime culture.

The Greater Bay Area Maritime Summer Camp is held to promote maritime culture, ocean culture and maritime safety culture and boost exchanges among teenagers in the Greater Bay Area. The event would be held concurrently in Guangzhou, Shenzhen, Zhuhai, Zhanjiang areas as well as Hong Kong, Macao and other GBA cities.