At an outlet of SF Express' Shaxi branch, Li Guoqiang efficiently handled package receiving, data entry and express numbers attaching, completing the receiving process in just a few minutes.
In the spare time, he took out his mobile phone and started taking online classes. In his colleagues' eyes, the 53-year-old is not only a down-to-earth, hardworking model worker, but also an "excellent master" of his apprentices.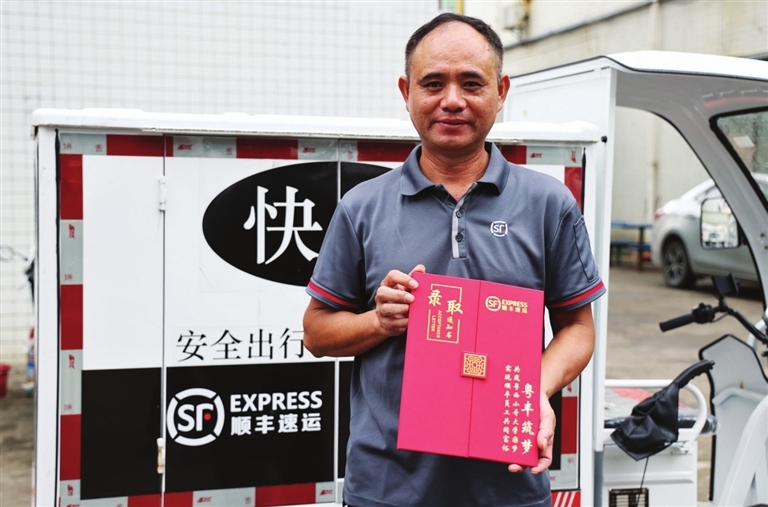 Since last year, Li Guoqiang has a new, special identity - a college student.

In 2021, after learning that the company had launched an academic advancement program, Li Guoqiang, who graduated from a high school, immediately signed up for it. To participate in the adult college entrance examination, Li Guoqiang studied two or three hours every day after work.

According to one of Li's apprentices, inspired and encouraged by Li, many colleagues also took part in the program to study and make progress together.

In January 2022, Li Guoqiang received his admission letter from Guangdong Business and Technology University, majoring in modern logistics management.

This year marks the second year of Li Guoqiang's enrollment to the university. After finishing work every day, he heads straight to the dormitory to begin attending online classes.

"It is never too late to learn," Li says, adding that he can always find new inspiration at work after learning professional knowledge of logistics management.

So far, a total of 395 front-line SF couriers in western Guangdong (also covering Zhongshan and Zhuhai cities), just like Li Guoqiang, have realized their college dreams through the academic advancement program.