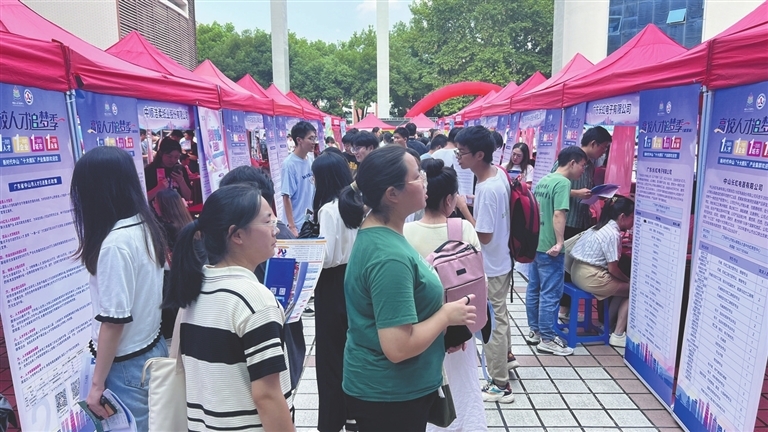 Zhongshan holds a job fair at Hubei University in Wuhan, Hubei province, attracting quite a few job seekers. (Photo/Jiang Shennuo)
"Zhongshan is situated in the Guangdong-Hong Kong-Macao Greater Bay Area, known for its prosperous manufacturing industry, which aligns perfectly with my field of study. This is why I am eager to explore potential development opportunities there." At the recruitment fair held at Huazhong University of Science and Technology, Liu Hongming, a doctor majoring in materials science and engineering, along with four other postgraduate students, learned about Zhongshan's industrial advancements. They asked for help from the staff of the Zhongshan Human Resources and Social Security Bureau to recommend their resumes to suitable enterprises in Zhongshan.

In recent days, the "talent recruitment train" from Zhongshan to Wuhan and Shenzhen has returned with fruitful results. During five job fairs, more than 1,500 resumes were received, over 500 were submitted by undergraduates, some 1,000 by postgraduates and over 60 by doctoral students.

At the job fair held in Wuhan, 12 key enterprises attracted an average of over 100 talents per hour. At the job fair held in Shenzhen targeting graduates of Tsinghua University, Peking University and Harbin Institute of Technology, the Zhongshan Institute for Drug Discovery hired three doctoral students.

Early this year, the Zhongshan Human Resources and Social Security Bureau conducted a survey on the employment needs of 4,800 key enterprises. It also conducted return visits to over 300 leading enterprises, and carried out in-depth research on more than 100 leading enterprises with the industry and information technology department. The purpose was to gain a thorough understanding of their preferred cities and recruitment success rates.

Last year, Zhongshan rolled out a set of 23 articles to boost the high-quality development of talent, which included special measures in terms of medical services, schooling of children, housing, and etc. It also innovatively proposed the evaluation of distinguished talents in seven fields, such as enterprise operation and management.