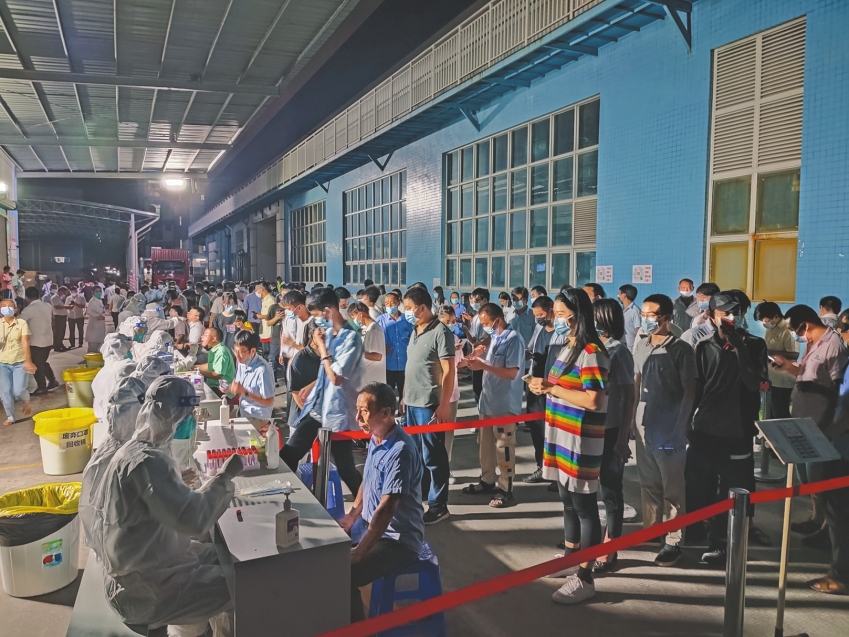 Torch Development Zone started large-scale nucleic acid testing on the evening of July 22. [Photo by Lin Yao]
On the evening of July 22, the General Office of Zhongshan Command Center for COVID-19 Control and Prevention issued an update on the prevention and control of the epidemic, saying that large-scale nucleic acid testing will be carried out in Zhongshan from July 22. Subsequently, towns and sub-districts released detailed plans for the testing.
In the evening, sampling sites in towns and sub-districts were set up, and volunteers were recruited and trained. Some towns and sub-districts had already started to collect samples.
In the gymnasium of Zhongshan Institute of University of Electronic Science and Technology of China in Shiqi District was still brightly lit at 9 pm. To speed up the progress, Shiqi District took actions immediately to start nucleic acid testing for students, teachers and staff and their family members who stayed at school during the summer vacation.