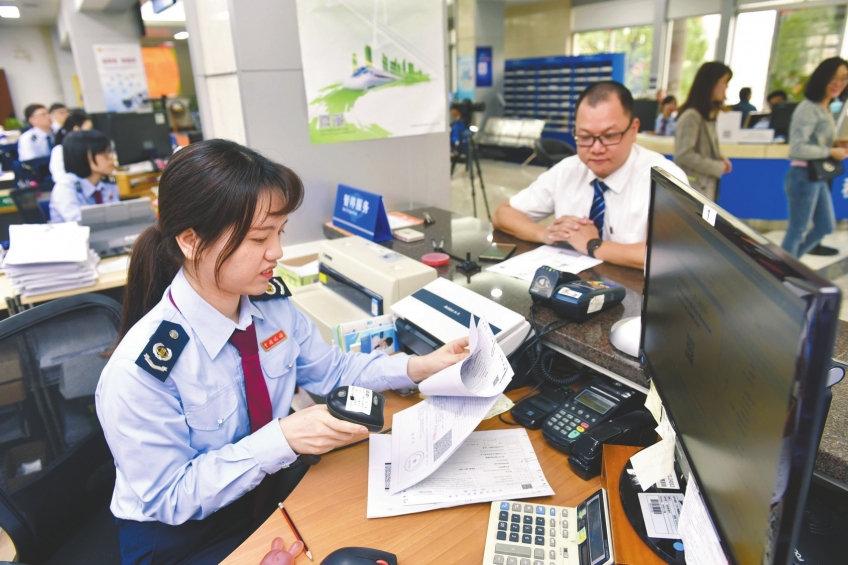 The Taxation Bureau of South District ushered in its first vehicle purchase tax (VPT) processing case under the new universal VPT policy, May 5, 2019.[Photo by Yu Zhaoyu]

The Zhongshan Municipal Taxation Bureau launched its universal VPT policy throughout the city as of May. Car owners can process the VPT at the nearest tax office or self-service terminals throughout the city. The former VPT Administrative Service Center, the Tax Office of the West District, Daling Self-Service Terminal, Xiaolan Self-Service Terminal, and Huangpu Self-Service Terminal operate normally.

On May 5, the Taxation Bureau of South District handled its first VPT case under the new policy. "Today, it just took me around 20 minutes to pay the VPT of 5 vehicles. It's very convenient," said Zheng Quanxiong, an agent for VPT processing from Zhongshan Jinling Auto Trading Co Ltd.

As mentioned before, after car owners pay the VPT, the electronic information for tax-paid proof will be generated automatically, and immediately uploaded to the vehicle management division of the public security authorities. Car owners can directly register their vehicles at the vehicle management division of the public security authorities, without submitting any hard-copy of the tax-paid proof.

In 2018, the Zhongshan Municipal Taxation Bureau was reported to have handled a total of 178,000 VPT cases. Following the implementation of the new policy, it has already handled a total of 35,000 cases in the first quarter of 2019.