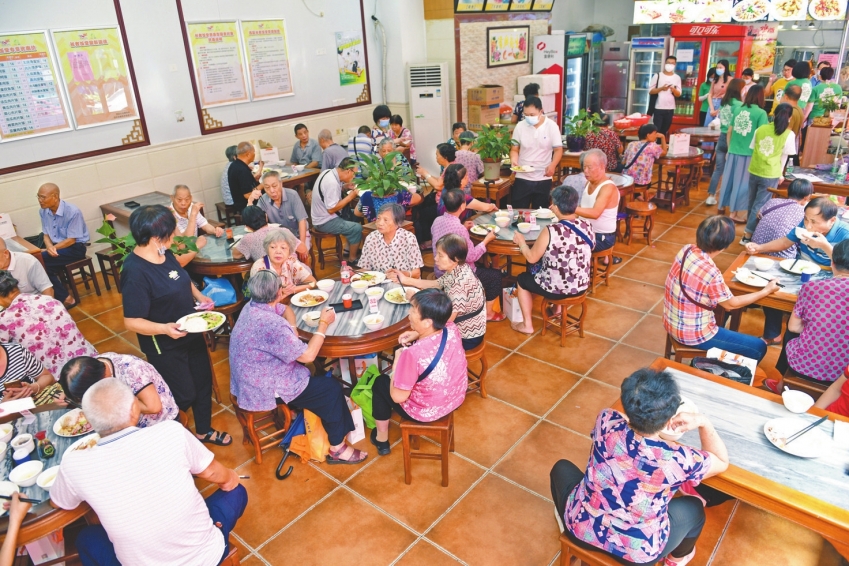 After a half month trial operation, the unveiling ceremony of the Dining Hall for the Elderly in West District was held on July 15 at the Li Bing's Deli store on Yanzhou Street. The elderly entered the store after scanning their faces. They chatted and enjoyed the delicious food.

"Li Bing's Deli is a popular place among neighbors, and the cooperation with this restaurant has been supported and welcomed by the elderly. With the strong support of the government and the social affairs department, we are looking forward to not only providing delicious and nutritious meals, but also creating a place where the elderly can meet friends and chat about their daily life," said Hou Yameng, a social worker at Qichuang Social Work Service Center, adding that in addition to encouraging healthy elders to walk outside of their homes, they also dispatched nursing workers to deliver meals to disabled and semi-disabled elderly people in the community, which is one of the features of the Dining Hall for the Elderly in West District.
Dishes provided on that day are clear at a glance of the menu on the interior wall of Li Bing's Deli. Hou Yameng said that nearly 20 kinds of dishes with reasonable combination of meat and vegetable give the elderly more choices.

"The elderly can choose their favorite dishes freely without making appointments in advance or going to the restaurant. Most importantly, there is a good dining atmosphere here. They can sit together to eat and talk about their families. Many elderly people have given positive feedback about this," Hou added.