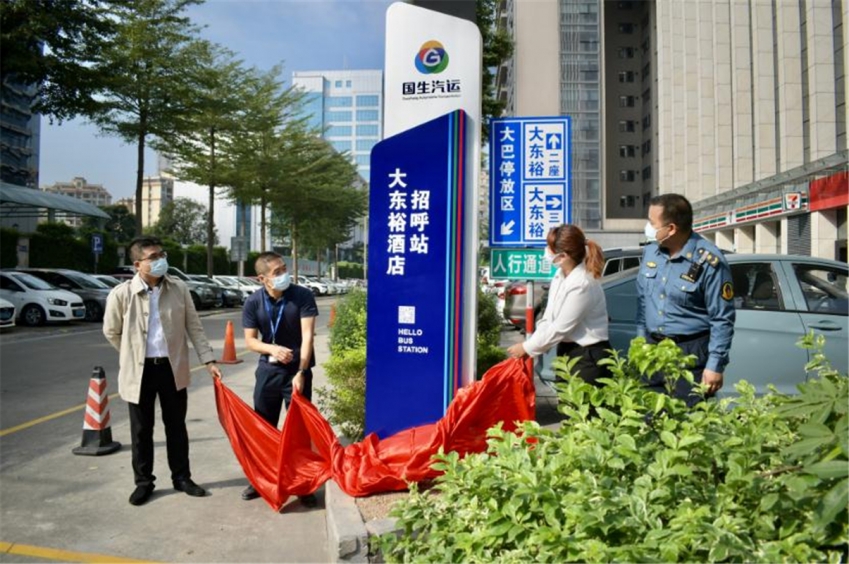 The first passenger request stop in Zhongshan opened at Dadongyu Hotel on November 17.

At present, four passenger stops of this kind have been registered and put on file in Zhongshan. "Next, request stops will be set up in such places as the Dasin business area in Shiqi District and Le Méridien Zhongshan in Gangkou Town," said Ou Yanting, general manager of Zhongshan Guosheng Automobile Transportation Co Ltd.

It is more convenient for passengers to take the bus at these request stops. With the online booking system, there is no need for any manual ticket window. Security checks are carried out with portable equipment by transportation staff and passengers can get on the bus at the roadside, with no need for other facilities such as departure blocks.

Three bus routes stop at Dadongyu Hotel's Hello Bus Stop request stop, including "Zhongshan - Guangzhou", "Zhongshan - Zhuhai" and "Zhongshan - Hong Kong-Zhuhai-Macao Bridge". There are still a manual service window and a waiting area set up for passengers at the Dadongyu Hotel request stop.

A request stop refers to the stop on a fixed route where regular buses can be temporarily parked on request for passengers to get on and off.