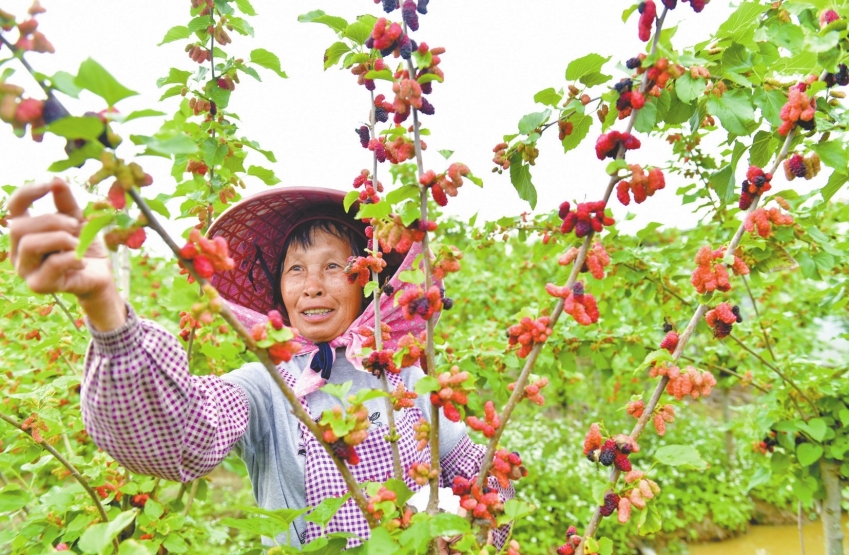 A woman picking fruits in Weifeng Farm.[File photo/Zhongshan Daily]
A variety of festival activities will be held in the tourist attractions of Zhongshan during the upcoming Labor Day holiday.

Xiaoyao Valley, located deep in the Wugui Mountains in Zhongshan, opened its running spring water pool to the public on April 17. It will also carry out the Landscape Tourism and Cultural Festival during the Labor Day holiday.

Scenic water resort Changjiang Water World will be open to the public from April 27. Activities such as the lion dancing parade, "balloon rains", "vertical marathon" and band performance as well as the bikini show will be held in succession since then.

A number of exhibitions, including the China Export Watercolor Paintings Show, will be held in the Zhan's Garden in Zhongshan during the holiday to meet tourists' cultural needs.

The 2nd Fishing Festival will be held in the Weifeng Farm, through which visitors from different regions can have a better understanding of Minzhong, which is known as the "Lingnan Water Town".

Xujing Farm in South District and Cocona Farm in Minzhong Town will introduce fruit-picking activities. People can also pick Brazilian cherries in both scenic spots during the Labor Day holiday.

Wonderful activities such as clown show, parade, creative bazaar and others will be showed on May 1 at the Yarra Family Kingdom in South District.

On May 4, "the Avengers Heroes Parade" will be held at the Guzhen Dasin Metro-Mall.