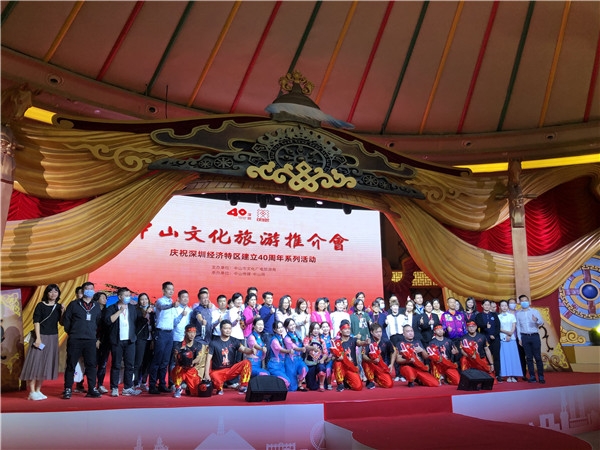 In celebration of the 40th anniversary of the establishment of the Shenzhen Special Economic Zone, a Zhongshan cultural tourism promotion meeting was held at the Splendid China and China Folk Culture Villages in Shenzhen on October 24.
The meeting promoted three cultural tourism routes: the "Greater Bay Area - Red Tour of the Reform and Opening-up Period", the "Family Vacation Tour" and the "Food Vacation Tour", and launched a publicity activity on tour groups for Shenzhen locals visiting Zhongshan. The first group of Shenzhen citizens to visit Zhongshan set out on the morning of that day.

Representatives of the cultural tourism industry including from the Tourism Area of Sun Yat-sen's Hometown, a national 5A tourist area, Zhongshan Hot Spring Resort, and so on, came to the stage to introduce various tourism resources. They also introduced food, scenic spots, and red tourism resources in Zhongshan to Shenzhen residents through short films. National intangible cultural heritage projects in Zhongshan such as the Drunken Dragon Dance and Salty Water Song were also performed at the event.