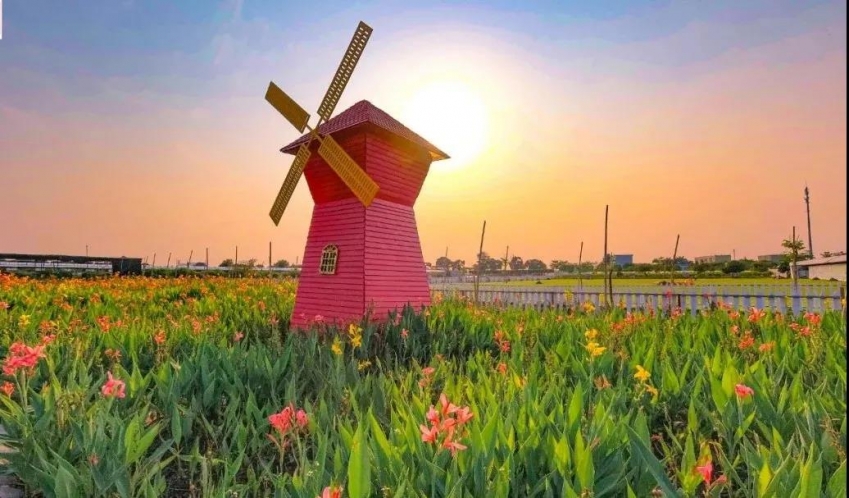 As summer arrives in early May, visitors to Zhongshan, a city by the Lingdingyang waters of the Pearl River Estuary, can plan an outing to enjoy its warm sunshine and pleasant aromas.

The streets there are covered in lush green vegetation, and the city is full of vigor and fruity fragrances in this most pleasant of seasons.

Minzhong: a town famous for waterscapes and lychees

Zhongshan is one of the major production bases of lychees in China. It was praised by Chinese poet Su Shi (1037-1101), also named Su Dongpo, of the Song Dynasty (960-1279), in his poem.

Minzhong town, known as the water town of Lingnan (an area that covers southern China), boasts the only original waterscape in the Pearl River Delta region.

In Minzhong's Xinpingsi village, there are harvests of lychees. The fruit hangs down from the branches, most notably the Sanyuehong, a lychee variety with red skin and juicy flesh.

Shenwan: a town boasting a sea of pineapples

Pineapples are one of the top four signature fruits of the Lingnan area. The pineapple output of Guangdong province accounts for 60 percent of the country's total.

The Shenwan pineapple has the highest quality in the province and it was listed as a protected product under China's national geographical indications in 2017.

The black mud and iron-rich white sand, as well as the sweet and alkali water of the local Yaji Mountain, are good for the growth of Shenwan pineapples.

The fruit can be served without being soaked in brine. Its crisp taste, sweetness and nice texture have also been recommended by Hong Kong food writer Chua Lam.

Shenwan pineapple can also be made into appetizing dishes and snacks such as pineapple bun (a steamed sweet bun stuffed with a slice of butter), sweet and sour pork, and pineapple pastries.
Tanzhou: embraces harvest of signature fruits
Situated in the southernmost part of Zhongshan, Tanzhou town is known as the hometown of characteristic fruits in Guangdong. Its planting area is about 10,000 mu (666.67 hectares) and it produces more than 50,000 metric tons of fruit every year.

Growers in Tanzhou are busy picking guava, watermelon, wax apples, and grapes during the May harvest season.

A bite of the appetizing fruit may refresh people with its coolness and sweetness - a relaxing and enjoyable experience.

Nanqu: a fruit garden in downtown Zhongshan
The first impression of an urban area is usually bustling streets and a central business district with tall buildings. However, Nanqu sub-district in downtown Zhongshan is more like the city's back garden.

In the Xujing Orchard, the fresh red plums and the purple fruit hanging from more than 300 Brazilian cherry trees really make a mouthwatering sight for visitors.

Children are always immersed in the joy of picking papayas there.

Sanjiao: an industrial town with a carefree lifestyle
Located in the northeast of Zhongshan, Sanjiao is an emerging industrial town which offers people a carefree lifestyle.

In the Tianjiashe Ecological Farm in the Diyin Lake Scenic Area, the 80 mu of jabuticaba fruits and 50 mu of grapes are now in their picking season.

All varieties of the crystal-like grapes and the shiny black jabuticaba fruits glitter in the sunshine.

Known as the "Hermes" of fruit, the jabuticaba fruits are rich in over 15 nutrients, including vitamin C, calcium, phosphorus and iron. The mature jabuticaba fruits give off a strong milk fragrance and have a soft taste.

It is a good idea to plan a "sweet journey" to the farm with several friends.

Statistics show that the output of fruit planted in Zhongshan's gardens reached 93,029 tons in 2020, and the fruit planting area in 2021 exceeded 56,000 mu.

There are all kinds of terrain in Zhongshan, such as mountains, forests and farmland, and it also boasts the charm of waterscapes, since it has lakes and is located by a river and by the sea.

The city was awarded the United Nations Habitat Scroll of Honor and named a National Garden City, a National Forest City and a national livable city with good climate. It is the first prefecture-level city in the Guangdong-Hong Kong-Macao Greater Bay Area to gain the National Climate Sign.

Zhongshan is rising like a scorching sun in the summer. It is trying to achieve high-quality growth through implementing local development strategies and offering a better environment for innovation and entrepreneurship.

Come on, plan a date with Zhongshan and explore the charm of this hub city in the Greater Bay Area!