The transition time between spring and summer is the best time to embrace the nature.

Travel route: Tianxin Forest Park in Wuguishan District - Guinan Village

Tianxin Forest Park

Tianxin Forest Park, the first forest park in Zhongshan, is located at the foot of the Wuguishan Mountain main peak. It is a tourist attraction integrating ecosystem conservation, fitness, recreation, education, and other functions.

Tianxin Forest Park is divided into four areas: Plant Information Hall, Conservation Area, Fitness and Mountain-climbing Area, and Administration Area. The park has more than ten scenic spots, including Flowers Garden, Cherry Blossom Garden, Rhododendron Garden, Moonlight Over The Lotus Pond, Rainbow Bridge, Tongying Garden, and Wooden Plank Road.

Tung flowers in the park are blooming now. They are known for the nickname "Snowflakes in May". After a gentle breeze, the snowflake-like flowers fall down onto the grass and streams.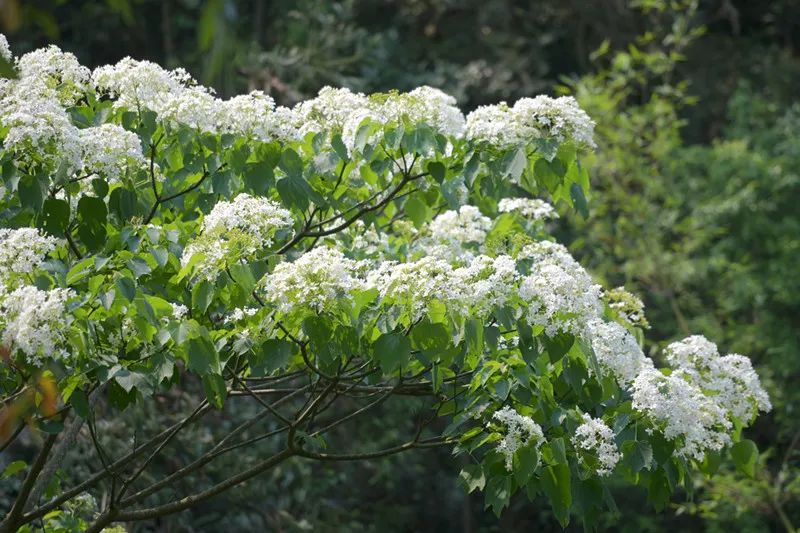 Snow-white flowers cover the grass and streams, forming a unique and fragrant "petal snow" scene.

Guinan Village

In the beginning of 2022, Guinan Village was selected as one of the third batch of Guangdong Culture and Tourism Villages.

Guinan Village is named after its location to the south of the Wuguishan Mountain main peak. Now, the village is famous for retaining its unique Hakka folk culture.

In recent years, Guinan Village has been refurbished with a number of public murals, bookstores and rest stations, giving the village a new look full of vitality.